FIFA
Pique FIFA 21: How to Complete the Flashback Player SBC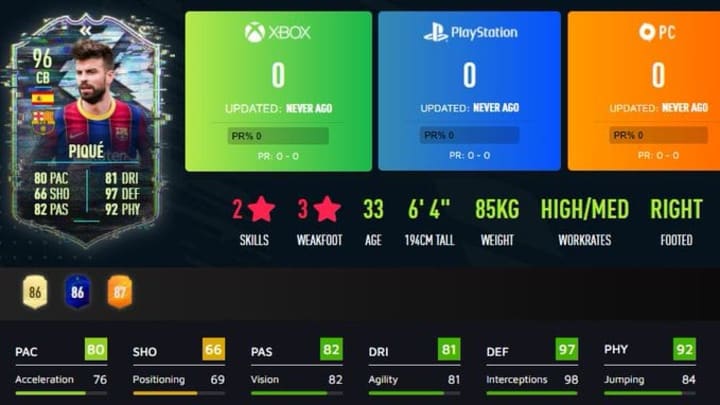 Photo by FUTWIZ
Pique FIFA 21 Flashback SBC was released during the La Liga Team of the Season week as a top tier, endgame defender.
Gerard Pique is notoriously a player in FIFA Ultimate Team that players use as Squad Building Challenge fodder. Although, the past few years have featured a special Pique card that's been a staple in sides for long periods of the game cycles. This new Flashback Pique is a welcomed release as a 96 overall defender. He strong links to most of the top defenders in La Liga as well.
Pique FIFA 21: How to Complete the Flashback Player SBC
Here's how to complete the Flashback Pique SBC in FIFA 21:
Segment 1
# of Players from FC Barcelona: Min. 1
Team of the Week or Team of the Season Moments Players: Min. 1
Squad Rating: 85
Team Chemistry: 60
# of Players in the Squad: 11
REWARD: Prime Electrum Players Pack
Segment 2
# of Players from Spain: Min. 1
Squad Rating: 86
Team Chemistry: 50
# of Players in the Squad: 11
REWARD: Small Rare Gold Players Pack
Pique becomes a 98 rated defender with an Anchor chemistry style. The price point might seem high at first looking at the requirements, but there are plenty of SBCs available to bring the price down. Additionally, players have FUT Champions and Division Rivals rewards on the way.
Flashback Pique expires May 14.