PlayStation Plus April 2022 Games Revealed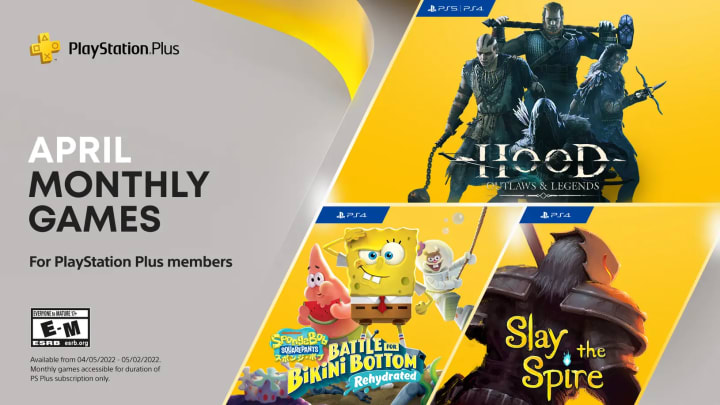 Image courtesy of Sony
The PS Plus April line-up for 2022 has been revealed, with only a day left to grab the March games before they disappear.
There are few things more joyous in life than free games, and the PlayStation Plus offerings are a great way to kick-off the month. March was a solid month for PS Plus subscribers, gifting players with the chance to download Ark: Survival Evolved, Team Sonic Racing, Ghostrunner and Ghost of Tsushima: Legends for free.
It seems April is shaping up to be just as exciting, with the new games set to go live tomorrow, April 5.
So, what's included in this month's free games?
PlayStation Plus April 2022: All Free Games Announced
This month, PS4 and PS5 fans will be sharing the spoils with eveything available to play on both consoles. With that in mind, here are the games available for April:
Hood: Outlaws & Legends (PS4 & PS5)
SpongeBob SquarePants: Battle for Bikini Bottom – Rehydrated (PS4)
Slay the Spire (PS4)
This above collection of games is certainly interesting, making this month a great chance to try out something new. Be it a new online multiplayer title with Hood, or a deckbuilder roguelike such as Slay the Spire.
Recently, Sony also revealed that Persona 5 would be leaving the PS Plus Collection on May 11, marking the first time agame has been removed from the service. Players will have until that date to download Persona 5 for free on their PS5 as part of their PS Plus subscription. The game will remain accessible so long as it has been downloaded and your subscription remains active.