Pokémon Concierge: Release Date, How to Watch, Cast, Streaming Service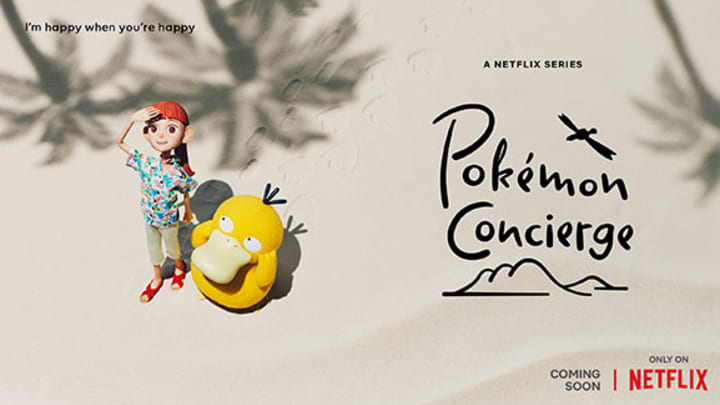 Pokémon Concierge is a brand new animated series coming to Netflix. / The Pokémon Company, Netflix
The Pokémon Company has announced a that brand new animated Pokémon show, Pokémon Concierge, is in the works. Here's what we know so far.
During the recent Pokémon Presents broadcast, amongst the updates to the franchises' many games, The Pokémon Company announced that a new stop-motion animation show would be coming to Netflix. Titled Pokémon Concierge, the show will be set at the Pokémon Resort and follow the story concierge Haru and the many Pokémon guests that make their visit.
The announcement was accompanied by a short teaser, showing an adorable stop-motion Psyduck waddling across a sandy beach.
Which Streaming Service Will Pokémon Concierge be On? How to Watch
As announced during the Pokémon Presents, Pokémon Concierge is being made in collaboration with Netflix. The show will be available to watch exclusively on Netflix.
Over the years, Pokémon has found a second home on Netflix, with a variety of the franchise's animated shows being made available to stream via the platform, such as Pokémon The Series: XY.
Pokémon Concierge Animated Series Cast and Crew
At the time of writing, neither The Pokémon Company or Netflix has revealed the cast and crew attached with the project. In an official announcement, the company revealed that more information would "be shared in the future."
Pokémon Concierge Animated Series Release Date
At the time of writing, a release date for Pokémon Concierge has yet to be revealed by either The Pokémon Company or Netflix. The show's Netflix listing simply says "coming soon" for now.
We'll be sure to update this article with more information as soon as it's revealed. In the meantime, be sure to check out the announcement trailer for a glimpse of the stop-motion animation in action.