Pokemon GO Fest 2021: Raid Hours Explained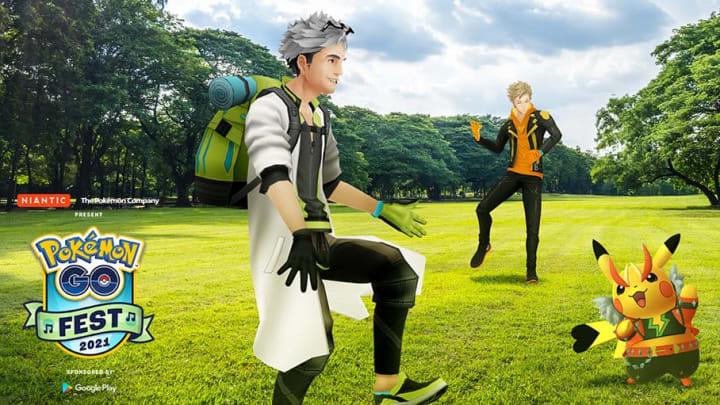 This year on the second day of Pokemon GO Fest, Niantic Labs has introduced a new mechanic to shuffle raids over the eight hours of programming. / Niantic Labs
This year on the second day of Pokemon GO Fest, Niantic Labs has introduced a new mechanic to shuffle raids over the eight hours of programming.
There four different themed hours over the course of the day with legendary and mythical Pokemon featured as bosses according to the theme. So, if any trainers in our audience have missed out on recent legendary raid events, we recommend stepping into the fest as soon as possible.
We've broken down everything there is to know about these hours below. Of course, all times listed are according to the trainer's local timezone.
Pokemon GO Fest 2021: Raid Hours Explained
As mentioned above, there are four distinct themed hours that are currently available on a rotation for the duration of the event. Every hour on the hour, the theme will switch, and all the raid bosses will follow suit. The themes are:
Wind Hour
Infographic showing the Raid bosses for Pokemon GO Fest Wind Hour / Niantic Labs
Wind Hour will run at 10 a.m.—11 a.m. and 2 p.m.—3 p.m. Its featured legendary Raid bosses are:
Giratina
Latias
Latios
Mewtwo
Ho-Oh
Virizion
Regigigas
Cresselia
Tornadus
Lava Hour
Short infographic including all the available Raid bosses during Lava Hour / Niantic Labs
Lava Hour will run at 11 a.m.—12 p.m. and 3 p.m.—4 p.m. local time. The bosses that will appear in raids each time this hour ticks are:
Entei
Ho-Oh
Landorus
Reshiram
Moltres
Regirock
Groundon
Heatran
Yveltal
Terrakion
Thunder Hour
Infographic showing all the Raid Bosses available during Pokemon GO Fest Thunder Hour / Niantic Labs
Thunder Hour will run at 1 p.m.—2 p.m. and 5 p.m. to 6 p.m. local time. Its Raid Bosses are:
Rayquaza
Raikou
Zekrom
Registeel
Zapdos
Dialga
Cobalion
Xerneas
Frost Hour
Short infographic showing all the Raid Bosses available during Pokemon GO Fest Wind Hour / Niantic Labs
Frost Hour will run at 12 p.m.—1 p.m. and 4 p.m.—5 p.m. local time. Its featured raid bosses are:
Mesprit
Uxie
Azelf
Lugia
Kyogre
Suicine
Kyurem
Palkia
Articuno
Themed Raid Hours do not conflict with the rotating Wild Habitat hours.