Pokémon GO Galaxy A Series Outfit: How to Get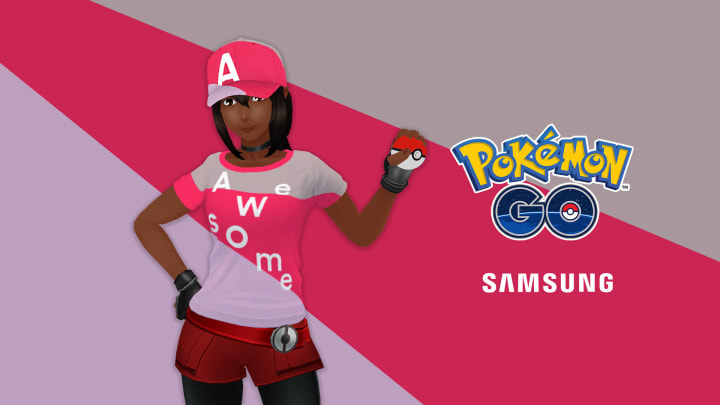 "Trainers, a new Galaxy A Series inspired look is now available!" / Photo courtesy of Samsung, Niantic
The Pokémon GO Galaxy A Series avatar outfit is available free of charge to any trainer looking to rock the latest special edition look by Samsung.
Following up the Samsung Galaxy tie-dye shirt and hat given out last July, the electronics titan is looking to give trainers some more free drip in Pokémon GO. Here's how to get the new Galaxy A Series avatar clothes.
Pokémon GO Galaxy A Series Outfit: How to Get
Whereas last year, players had to go through the hassle of creating a Samsung account, the process this time around is fortunately much simpler.
To get the Samsung 2021 T-Shirt and Hat Pokémon GO avatar items via a web browser:
Sign in to the account with the same credentials used for your Pokémon GO account (e.g. Google, Facebook, Niantic Kids)
Enter the offer code KUAXZBJUTP3B7
After successfully redeeming an offer code, a message will display the items added to your inventory
For those who play Pokémon GO on an Android device, in-app offer code redemption is exclusively available as well:
In the Map View, tap the "Main Menu" button
Tap the "Shop" button
At the bottom of the screen, enter the offer code KUAXZBJUTP3B7
Tap "Redeem"
At the time of writing, there isn't an expiration date, a specific redemption limit or any other requirements related to the Galaxy A Series outfit offer.
For more on Pokémon GO, feel free to check out our coverage of the free 3-Month YouTube Premium deal available for eligible trainers in celebration of the title's fifth anniversary.