Pokémon
Pokemon GO Shiny Roselia: How to Get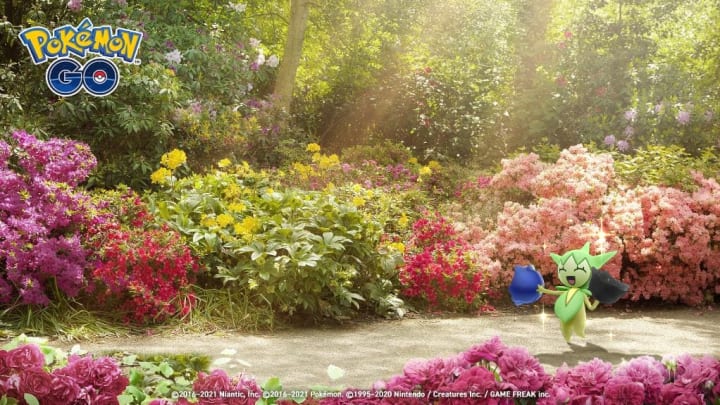 Shiny Roselia was the subject of the latest Pokemon GO Community Day event on Feb. 7. / Niantic Labs
Shiny Roselia was the subject of the latest Pokemon GO Community Day event on Feb. 7.
Niantic Labs decided to treat trainers to a rosy event this February, just ahead of Valentine's Day. Roselia was able to spend some time in the sun as the featured Pokemon which gave all participants a good chance at obtaining their perfect Roserade [IV HOOK]. However, there is one thing better than a strong grass-type: a shiny strong grass-type!
Pokemon GO Shiny Roselia
The chances of finding a shiny Pokemon in Pokemon GO are 1:450 or just around 0.22%. While Niantic may bump the chance up slightly during events or features, the only surefire way to increase the odds of encountering a shiny is to pound the pavement and encounter as many as possible.
When looking for a specific Pokemon, trainers should be aware of any events featuring that Pokemon. In Roselia's case, its most recent event was its Community Day on Feb. 7. Community Day program vastly increases the spawn rate for its featured creature.
Trainers may also want to rely on the Pokemon's habitat or possible nests. Roselia, as a grass-type, is primarily found on sunny days in wooded areas, gardens, and parks. Fortunately, most parks will have at least one PokeStop, so trainers can set up lures.
Shiny Roselia is told apart from its typical counterpart by its flowers. Shiny variants carry a blue and a black rose at the end of its arms instead of a blue and a red. Additionally, its body displays a sunnier hue with chartreuse as its primary color.
While Roselia was first introduced alongside the primary Hoenn release on Dec. 8, 2017, its shiny form wouldn't debut until the Dortmund Safari Zone event on Jun. 30, 2018. Its PokeDex number is 315 and it is best known for its serene aroma and thorny defense of its flowers.
Roselia evolves from Budew with the use of 25 candies and into Roserade with 100 candies and a Sinnoh stone.