Pokemon GO
Pokémon GO Yamask Timed Research Explained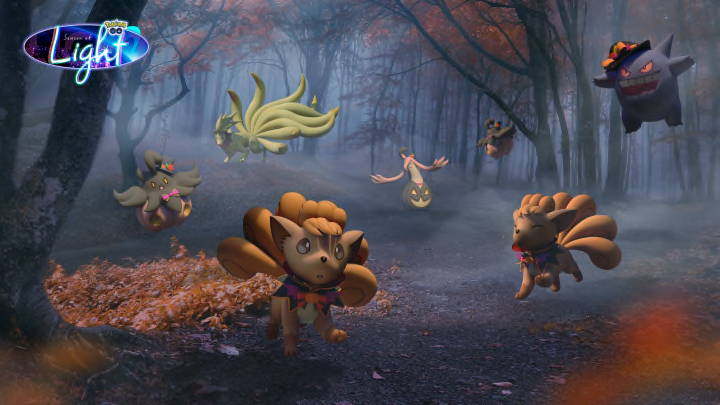 Courtesy of Niantic
There are plenty of opportunities for trainers to get their hands on Yamask during Pokémon GO's Halloween Event. In addition to the Mystery Mask Special Research, there will be a Timed Research that is purchasable for either $1 for just the event access or $5 which comes with additional bonuses.
Trainers will be able to buy a ticket for the Timed Research throughout the Halloween Event which will be from Thursday, Oct. at 10:00 a.m. until Tuesday, Nov. 1 at 10:00 a.m. local time. After buying the ticket, trainers can take as much time as they need to complete the Timed Research Event tasks.
Pokémon GO Yamask Timed Research
There are two steps to complete for Yamask's Timed Research. Every task in each step will come with its own reward, and trainers will be able to earn an additional award for completing all of the tasks in the step. This Timed Research event is catered towards trainers looking to farm candy to evolve Yamask into Cofagrigus or catch the Spirit Pokémon in its shiny form.
Step 1 - Reward for completing: Yamask encounter
Catch one Ghost-type Pokémon - Yamask encounter
Catch five Ghost-type Pokémon - Yamask encounter
Catch 10 Ghost-type Pokémon - Yamask encounter
Catch 15 Ghost-type Pokémon - Yamask encounter
Catch 20 Ghost-type Pokémon - Yamask encounter
Catch 25 Ghost-type Pokémon - Yamask encounter
Catch 30 Ghost-type Pokémon - Yamask encounter
Step 2 - Reward for completing: Galarian Yamask encounter
Catch one Ghost-type Pokémon - Galarian Yamask encounter
Catch five Ghost-type Pokémon - Galarian Yamask encounter
Catch 10 Ghost-type Pokémon - Galarian Yamask encounter
Catch 15 Ghost-type Pokémon - Galarian Yamask encounter
Catch 20 Ghost-type Pokémon - Galarian Yamask encounter
Catch 25 Ghost-type Pokémon - Galarian Yamask encounter
Catch 30 Ghost-type Pokémon - Galarian Yamask encounter