Pokémon
Pokemon Legends: Arceus Will Feature Monster Hunter-like Mechanics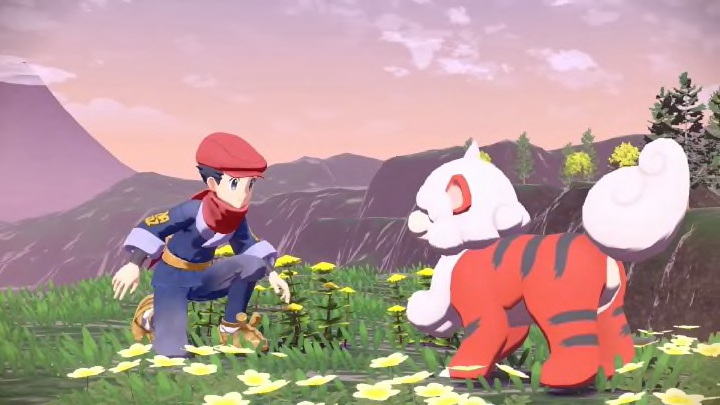 The Pokemon Company, the lead corporation behind the iconic Pokemon franchise, has issued a statement confirming exploration gameplay Legends: Arceus. / The Pokemon Company, Game Freak
The Pokemon Company, the lead corporation behind the iconic Pokemon franchise, has issued a statement confirming exploration gameplay in Pokemon Legends: Arceus.
In a statement originally issued to Kotaku on Friday, Oct. 8, The Pokemon Company explained how exploration will work in its upcoming Nintendo Switch title Pokemon Legends: Arceus. According to the statement, this style is comparable to another franchise under the corporate umbrella: Monster Hunter.
Pokemon Legends: Arceus Will Feature Monster Hunter-style Exploration
The full statement issued to Kotaku reads as follows:
In Pokémon Legends: Arceus, Jubilife Village will serve as the base for surveying missions. After receiving an assignment or a request and preparing for their next excursion, players will set out from the village to study one of the various open areas of the Hisui region. After they finish the survey work, players will need to return once more to prepare for their next task. We look forward to sharing more information about exploring the Hisui region soon.

- The Pokemon Company (10/8/2021)
Monster Hunter features a similar mechanic in which players use a settlement as their main hub to travel to and from when exploring the wilds. When leaving the central hub—in this case, Jubilife Village—they can choose from an assortment of different biome locations on the map to visit.
These smaller locations, themselves, are self-contained "open-world-like" areas that allow for near unlimited exploration. Players are welcome to move about however they'd like while remaining within the boundaries of their specified habitat—as are its AI inhabitants. This mimics the Wild Area or Routes from more recent main-series Pokemon titles such as Sword and Shield.
Rumors originally cropped up earlier that week as players began to wonder exactly how an open world would be implemented in the game. This was later clarified after new details about the game came to light—revealing it may not be what fans were expecting after all.
It seems that The Pokemon Company wanted to clear up any misinformation or misunderstandings about Legends: Arceus ahead of release. Hopefully, this will allow fans to make a more informed decision regarding their adventures in the Hisui region.
Pokemon Legends: Arceus is scheduled to release on Jan. 28, 2022 for the Nintendo Switch.