Pokemon Legends: Arceus Thundurus Guide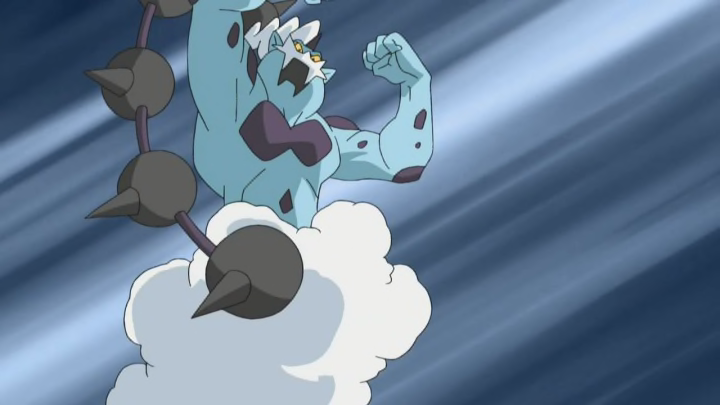 We've put together a comprehensive guide to catching Thundurus in Pokemon Legends: Arceus / Game Freak, The Pokemon Company
We've put together a comprehensive guide to catching Thundurus in Pokemon Legends: Arceus.
The process of getting Thundurus is a bit extensive as it requires players to have already made it past the main campaign and be well enough into the post-game content. By the time they're able to access the Missions necessary to catch Thundurus, they'll likely have already captured Dialga and/or Palkia. Fortunately, like many other missions, getting a hold of Thundurus is much like catching any other Pokemon on the overland.
Here's where to find Thundurus and how to catch it in Pokemon Legends: Arceus.
Where is Thundurus in Pokemon Legends: Arceus
Thundurus is located in the Cobalt Coastlands, specifically by Sand's Reach. It exclusively spawns during thunderstorms.
However, in order to have Thundurus appear, trainers will have needed to complete up to Mission 20: Researcher of Myths, and then finish Missions 21-26 to collect all the plates from Azelf, Uxie, Mesprit, Regigigas, Heatran, and Cresselia.
With these plates in hand, trainers can head to the Galaxy Hall building and speak to Cogita and begin Request 94: Incarnate Forces of Hisui. They can then request to go after Thundurus.
How to Catch Thundurus in Pokemon Legends: Arceus
If all the above conditions are met--starting Request 94, heading to Sand's Reach in the Cobalt Coastlands, and waiting for a thunderstorm—Thundurus should appear and be ready for battle.
Trainers may need to call Basculegion and head into the open water to face it. When it spots them, it will hurl tornados at them, which they'll need to dodge to continue the encounter. They'll need to stun Thundurus by throwing items at it such as Mud Balls or Spoiled Apricorns.
Thundurus appears at level 70 and its biggest weaknesses are ice and rock-types. For that reason, we recommend bringing Hisuian Avalugg along as it's both an ice and rock-type. Hisuian Arcanine, Glaceon, Weavile and/or Walrein are also acceptable substitutes.
The rest should be as straightforward as any other battle—wear it down without making it faint and use your strongest PokeBalls to catch it.
Some may want to turn off the game's auto-save feature during important battles like these as an extra fail-safe.