Pokémon, Oreo Reveal Limited Edition Cookie Collaboration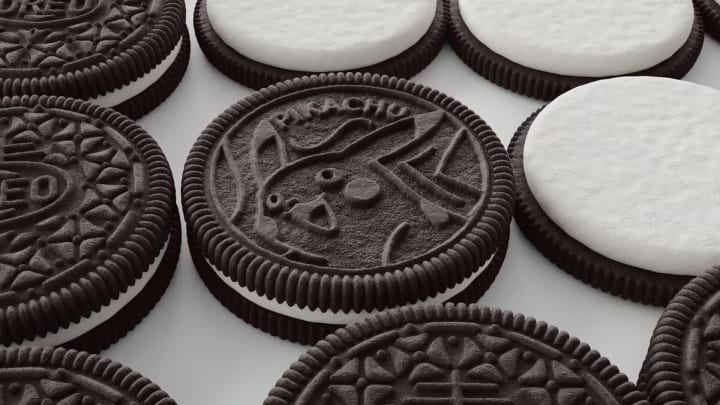 Pokémon and Oreo have revealed the details of the collaboration they first teased in June. / Photo courtesy of Oreo/The Pokémon Company
Oreo and Pokémon have partnered to create limited edition cookies bearing the likenesses of 16 of the most famous Pokémon from the series.
Each pack of cookies will contain a random assortment of embossed images, with some Pokémon appearing less frequently than others. Packs aren't guaranteed to contain all 16 images, likely requiring completionists to buy more than one pack of cookies to catch 'em all. Aside from naming Mew as the rarest Pokémon in the set, Oreo did not announce the odds of finding the individual designs.
Packaging for the limited edition cookies. / Photo courtesy of Oreo/The Pokémon Company
Pokémon, Oreos Reveal Limited Edition Cookie Collaboration
The designs include the following Pokémon:
Pikachu
Bulbasaur
Charmander
Squirtle
Dratini
Piplup
Sableye
Cyndaquil
Grookey
Sandshrew
Jigglypuff
Lapras
Mew
Pancham
Rowlet
Snivy
All the designs in the collaboration. / Photo courtesy of Oreo/The Pokémon Company
Fans can pre-order the Pokémon Oreos starting Wednesday, Sept. 8. The cookies will appear in stores starting Sept. 13.
Oreo's massive Pikachu mural. / Photo courtesy of Oreo/The Pokémon Company
Pokémon and Oreo are also celebrating the collaboration with an art installation located on the Venice Beach Boardwalk in Los Angeles. The installation, which runs Sept. 7 to Oct. 3, includes a mural that measures 8 feet tall and 22 feet wide depicting Pikachu using more than 8,000 3D replicas of the Pokémon-themed cookies.
Oreo and Pokémon first teased this collaboration in late June.