Pokémon Reveals New Electric-Type Gym Leader Iono in Scarlet and Violet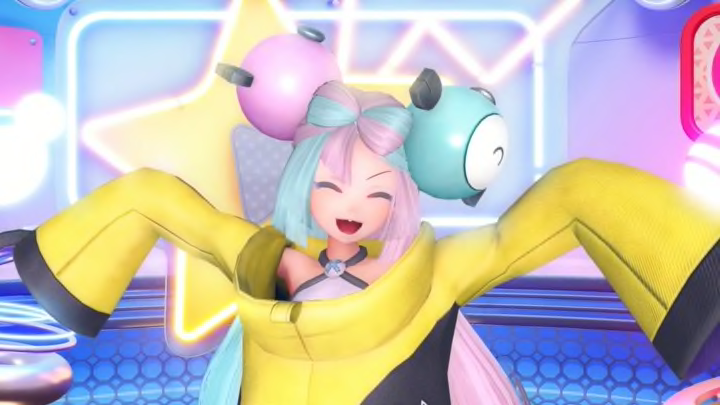 New electric-type Gym Leader Iono. / Nintendo
A new Gym Leader has been revealed coming to Pokémon Scarlet and Violet — Iono.
An introductory trailer for Iono was posted to the Pokémon Twitter account yesterday, allowing fans to get to know a little bit more about her ahead of the game's release on Nov. 18. Iono is an influencer and streamer who specializes in Electric-type Pokémon. Players will encounter her at Levincia's Gym in the Paldea region.
Iono can be seen in an oversized yellow and black jacket, sporting pastel pink and blue hair shaped into a bow above her fringe. She has two Magnemite hairclips on either side of her head, which levitate off at various intervals.
The clip features Iono playing a game with her streaming community called "Who's Iono's partner?" She describes her partner Pokémon to her viewers, asking them to guess which Pokémon it is.
She describes the Pokémon as "squishy" and "a li'l sluggish with an easygoin' vibe." She mentions that it has "two big ol' bumps on its noggin that people always mistake for eyes." Iono doesn't actually reveal who her partner Pokémon is during the "stream" but says she will "next time."
Pokémon were quick to try and guess the Pokémon in question in the comments under the Twitter post, but many have come to the conclusion that it could be a brand new Pokémon altogether.