Pokémon
Pokemon UNITE Gardevoir Release Date Announced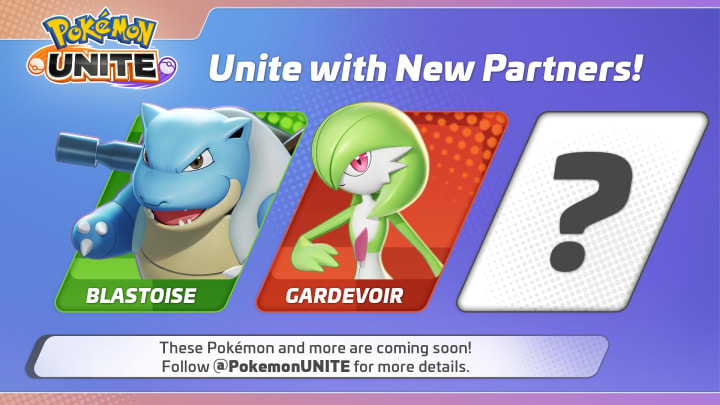 Pokemon UNITE developers Tencent and Game Freak have announced the release date for Gardevoir. / Tencent, GAME FREAK, The Pokemon Company
Pokemon UNITE developers Tencent and Game Freak have announced the release date for Gardevoir.
The team originally teased both Gardevoir and the missing Kanto water-starter, Blastoise, over a month before the game launched on June 17. These two would be the first additions to the game post-launch with Gardevoir being No. 21 and Blastoise looking to be No. 22. Fortunately, players aren't going in blind, as the developers have released clips of the Pokemon in action prior to its implementation in-game.
Gardevoir Release Date in Pokemon UNITE
Players can battle with Gardevoir beginning on July 28.
From the teaser video clip released via the official Pokemon UNITE Twitter account on July 27, it appears that Gardevoir's kit will focus on AoE damage and stunning effects rather than straightforward attacks. We predict that it'll be listed as a Ranged Support or All-Rounder similar to Eldegoss.
Gardevoir's kit is psychic-based, of course. Players will likely have to juggle keeping it away from the center of battle while still being able to place its AoE and Ultimate close enough to make a difference. We don't expect it to have a healing-based ability, either, instead focusing on stalling opponents in the field.
They'll likely have to purchase its UNITE license from the Unite Battle Committee using Aeos Coins—so we recommend saving up now if you haven't already. While there hasn't been a confirmed price point for Gardevoir or Blastoise, we assume they will be on the lower ends. If Gardevoir truly is like Eldegoss, we can use Eldegoss' License cost of 6,000 Coins as a benchmark. However, it could be as high as 8,000 Coins, given its popularity.