Pokémon
Pokemon UNITE Talonflame Guide: How to Play Talonflame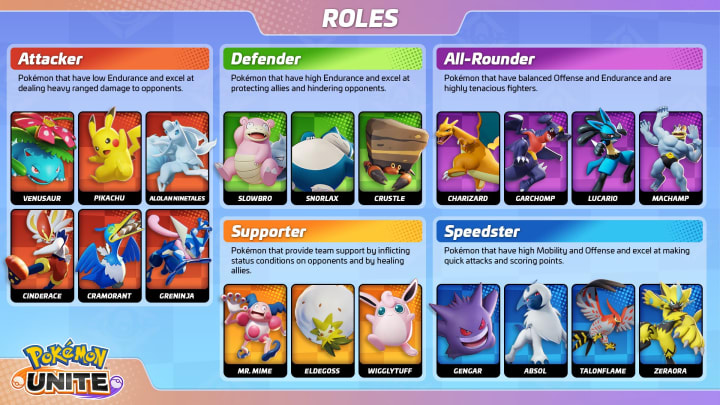 Pokemon UNITE players looking for advice on how to play Talonflame—look no further. We've put together this handy guide containing all the advice one / GAME FREAK, Tencent, The Pokemon Company
Pokemon UNITE players looking for advice on how to play Talonflame—look no further. We've put together this handy guide containing all the advice one could need to get started.
Ready to take flight into your first Pokemon UNITE match with Talonflame? Here's everything you need to know about how to play this fiery bird Pokemon.
Pokemon UNITE Talonflame Guide
Talonflame is noted to be in the Speedster class using Melee attacks. Mobility is its highest stat—possibly being the Pokemon with the highest mobility in the game—at five stars. Scoring comes in second at three-and-a-half, Offense is third with two-and-a-half, Endurance has one-and-a-half and Support rings dead last with only half a star. Given this information, it's easy to see where trainers should place this Pokemon on the field.
Battle and Held Items
We'll be leaning into Talonflame's natural abilities with this setup. Our top choices for Held Items are:
Scope Lens
Muscle Band
Attack Weight
Float Stone
There really isn't a point to boosting Talonflame's endurance or health pool. It simply isn't build to be scrappy—and forcing it into that role will only end in loss and frustration. Instead, we recommend the ever-popular Muscle Band and Scope Lens as the cornerstones of this build. The Float Stone can be used for Talonflames who want to move about the map quicker and the Attack Weight should be swapped in for those who find themselves scoring more often than not.
In that same vein, the best Battle Items for players to bring to the field with Talonflame is one of the following:
X Attack
X Speed
Eject Button
Our first pick is, of course, the X Attack, which should be popped before Talonflame heads into the fray. For those who prioritize speed and potential getaway, however, the Eject Button is the better choice—typically out-doing the X Speed. However, should players not have the Eject Button yet, it will do in a pinch.
Moveset
Talonflame starts out as its first form, Fletchling, with the dash move "Acrobatics" as its "R" and melee move "Peck" as its "Rz." The rest of its move morphs are dash, so that won't necessarily be a factor here. We believe its best final moveset is:
Fly and Flame Charge have the possibility of some serious crowd control—whether the player realizes it or not. One of the cardinal rules of a team match is to avoid damage if possible, making Fly's area of effect (AoE) effect as Talonflame is directed over the map a good way to scare opponents in a certain direction.
Flame Charge not only buffs Talonflame's basic attack and speed, but also slows the opponent's speed to leave them entirely at the falcon's mercy. Additionally, it affects all Pokemon in Talonflame's path, and acts as a directional dash if needed.
Placement
Talonflame is what some players refer to as a "glass cannon." It can pack quite a punch but will shatter almost immediately if hit. Therefore, players shouldn't give their opponents the option to recover once they start their attack. This is precisely why we recommended the moveset above. The best bet is to disrupt and take down others as quickly as possible.
We recommend Talonflame stick to the middle area and build its experience by taking down wild Pokemon as it flits between the top and bottom lanes. With everything we've listed above, players should be able to disrupt the enemy team at every turn and get at least one pick before needing to regroup.