Overwatch
Potential Overwatch 2 Leak Resurrects Rumors of Junker Queen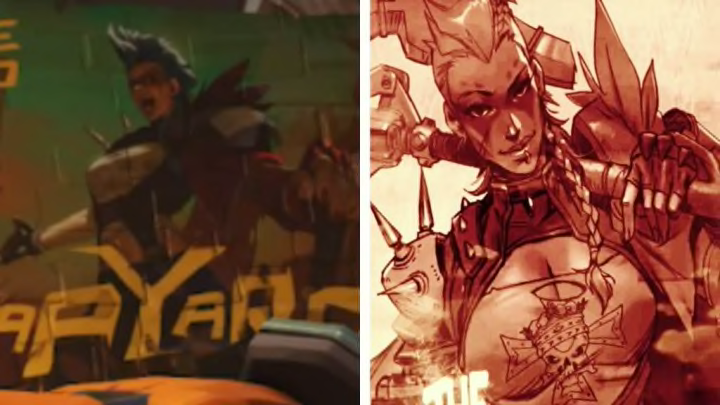 A potential leak included with the beta launch of Overwatch 2 has pointed toward the appearance of Junker Queen. / Blizzard Entertainment, u/Stuck-In-Orbit (Reddit)
A potential leak included with the beta launch of Overwatch 2 has pointed toward the appearance of Junker Queen.
Overwatch players have been imagining the reveal of the Junker Queen since her reveal alongside the story of Junkrat, one of the more popular DPS heroes in the game. According to his story, Junkrat became one of the so-called "Junker" survivors following a detonation of the Australian omnium fusion core irrevocably changed parts of the country. Of these individuals, one woman rose to power to become the Queen of the then-newly-minted Junkertown — i.e.: Junker Queen.
Junkrat and Junker Queen went on to have some tumultuous history as the former eventually tried to cheat the latter out of treasure and steal from her personal vault.
Junker Queen Could be in Overwatch 2?
Apparently, by going back to an older leak and retrieving the hue and saturation values from her leaked abilities, players have been able to adjust the images of the Junker Queen model to reveal her in much more impressive detail.
As explained by user Stuck-In-Orbit on the official competitive Overwatch subreddit, the placement of ability icons on the new F1 character screen directly overlap the character model in this latest build of the game. Thanks to the leaked ability icons for Junker Queen, applying this new-found information of the icon placement, players have been able to significantly lighten the images and make out details of the Junker Queen model.
For example, her Carnage ability is placed over the side of her mouth, which can be adjusted to reveal her bright red lips and small scar splitting her upper lip. Her Rallying Cry ability is placed over her eye, which can be adjusted to showcase her red irises and potentially blue eyebrows — implying blue hair altogether.
Prior to this reveal, the most concrete piece of information regarding the implementation of Junker Queen came in the form on concept sketches from Arnold Tsang, the then assistant art director and lead character concept artist, in 2019. Jeff Kaplan, the franchise's former game director, confirmed that the team had long term plans for the character shortly afterward.
DBLTAP cannot confirm a release date for Junker Queen, nor can we verify that the character truly is meant to be in Overwatch 2. However, with the multiple uncanny discoveries surrounding this particular set of images, it's entirely probable the leak is among the most credible at the time of writing.