Prime Gaming January 2023: Full List of Free Games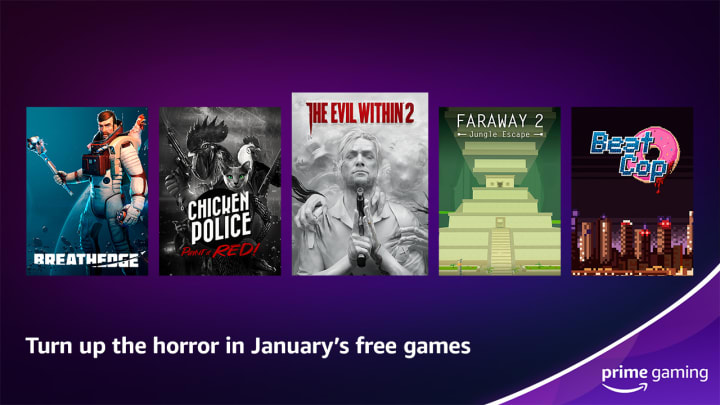 Amazon
Prime Gaming January 2023 offerings were announced Jan. 3 with six games available for free to claim.
Prime Gaming is an extension of Amazon Prime and Twitch. Amazon Prime subscribers can activate a free Prime Gaming account at no additional cost. Prime Gaming members have a free Twitch subscription every month, free games and special add-ons at their disposal. Fans of games like Call of Duty: Warzone 2, Apex Legends, FIFA 23, Madden 23 and more make use of the free content that's made available each month. For many, the free games on offering every month is where the real value comes in.
Prime Gaming January 2023: Full List of Free Games
Here's a look at the six free games now available to claim through Prime Gaming in January 2023:
The Evil Within 2
Faraway 2: Jungle Escape
Breathedge
Beat Cop
Lawn Mowing Simulator
Chicken Police - Paint it RED!
Dishonored 2 is also available to claim in January. These games expire in 28 days so be sure to claim them soon if you want them.
How to Claim Prime Gaming January 2023 Free Games
Prime Gaming members can head to the link here to claim their free games. As well, they can look at the content catalog to see if there's anything to take advantage of for the games they play. League of Legends fans with Prime Gaming subscriptions make sure to never miss a free capsule every month that contains a permanent skin, RP and Mythic Essence.