Prime Gaming March 2022 Free Games and Rewards Lineup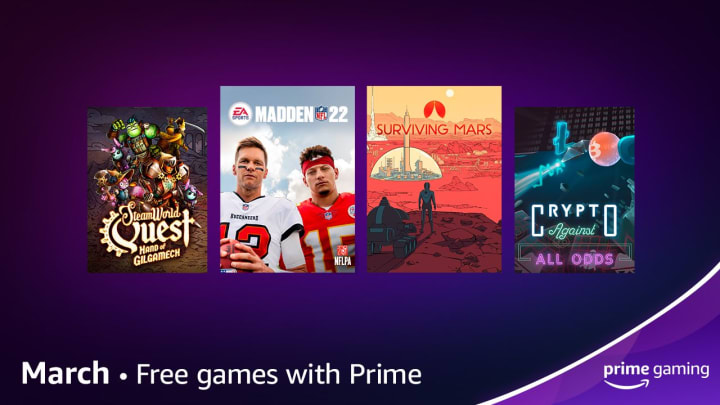 "This week, Prime Gaming's library of free in-game content grew with more than $300 in value across Call of Duty, Apex Legends, Madden and more." / Image courtesy of Prime Gaming
The Prime Gaming free games and rewards lineup for March 2022 has officially been announced, meaning that those subscribed to the Amazon service should have plenty of new gaming-related goodies to start off the new month.
Here's a breakdown of the free games and exclusive in-game loot available to Prime Gaming members for the month of March 2022.
Prime Gaming March 2022 Free Games and Rewards Lineup
Prime Gaming is offering seven more free titles starting March 1:
Madden NFL 22: Gameday happens here. All-new features like Next Gen Stats star-drive AI and immersive Dynamic Gameday deliver the most authentic gameplay experience ever. Extend your Madden experience with Ultimate Team rewards for Prime members and check back each month to claim your packs.
Surviving Mars: Overcome challenges and execute strategies to improve your colony's chances of survival on Mars while unlocking the many mysteries of this alien world.
Crypto Against All Odds: Take on the role of a cybersecurity expert in this tower defense game where players will fight against hackers and other blockchain threats set in this cypherpunk interactive fiction.
looK INside: Play as Manon, a character who discovers a book in the attic which reveals the past of her family members through their memories, gestures, quirks and little secrets.
Pesterquest: Embark on a quest of epic importance in a grimsical episodic visual novel adventure set in the darkly funny Homestuck / Hiveswap universe where players will zap between Earth and Alternia making friends as they go.
SteamWorld Quest: Hand of Gilgamech: Lead a party of aspiring heroes through a beautifully hand-drawn world and intense battles using only a player's wits and a handful of cards.
The Stillness of the Wind: Play as Talma, a character who is approaching her final years by living out her simple way of life by tending to her homestead, surviving, subsisting, whilst increasingly disturbing letters arrive from her family in the city.
Amazon Primers should also note that March 1 will be the last chance to claim Stellaris, Ashwalkers: A Survival Journey, As Far as the Eye, Double Kick Heroes and Golazo! Soccer League for free through the service.
As for Prime Gaming's main draw, here are the highlights of its incoming in-game content offers for March:
Red Dead Online - 40% off Semi-Automatic Pistol, 30% off Established or Distinguished Bounty Hunter Role Item (March 1)
Final Fantasy Brave Exvius: War of the Visions - Select Alcryst Statue x100 Summon Ticket (March 2)
Mobile Legends Bang Bang - Amazon Prime Chest (March 2)
Grand Theft Auto Online - GTA$100k (March 3, 10, 17, 24 and 31)
Paladins - Digitized Bomb King (March 3)
SMITE - Safe Breaker Kali (March 3)
Lords Mobile - Pack B (March 7)
Roblox - Mardi Gras Steampunk Mask (March 9)
Dead by Daylight - Fancy Family Dinner Outfit for Jake Park (March 10)
Nakara: Bladepoint - Immorta's Mountain Headwear (March 14)
Blankos - Catch Up Bundle (March 15)
Legends of Runeterra - Rare Prismatic Chest, One Epic Wildcard (March 15)
Final Fantasy Brave Exvius: War of the Visions - Gil Snapper (XL) x100 (March 16)
Mobile Legends Bang Bang - Popol and Kupa-Hunting Pals (March 16)
Lords Mobile - Pack C (March 21)
Two Point Hospital - Stealth Mode Bundle (March 22)
PUBG: Battlegrounds - Gold G-Coin Box, contraband coupon x 10, polymer x 30 (Coming Soon)
Be sure to check out the full lineup at gaming.amazon.com.