Prisoner Elden Ring Class Guide: Stats, Weapons, Armor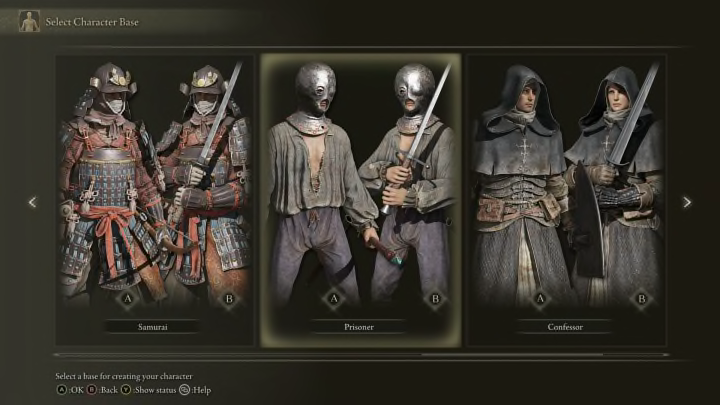 The Prisoner is primed for the spellsword life. / Courtesy of FromSoftware/Bandai Namco, Screenshot by Noam Radcliffe
The Prisoner is one of the starting classes in Elden Ring, and although it's a little more involved than the Vagabond or the Warrior, it remains a good starting point for players looking to dip their toes into magic use in Elden Ring. Here's how to build it into a spellsword killing machine.
Prisoner Elden Ring Stats Guide
The Prisoner starts the game with medium boosts to Dexterity and Intelligence, a small boost to Mind and even smaller boosts to Vigor, Endurance and Strength. The only stats in which it falters are Arcane and Faith.
As the Prisoner, you'll want to spread your stats among Vigor, Dexterity, Intelligence and Mind. Having four stats to juggle can make it tricky to progress. In the early game, you'll want to focus on leveling up your Dexterity to make sure you're dealing enough physical damage to keep pace with the game, and to increase your casting speed.
As you unlock better spells, you can start pouring more stats into Intelligence to make them more effective. Along the way, you'll want to toss a few points here and there into Endurance — upping your stamina and letting you wear more armor — and Mind — increasing your FP pool.
Ultimately you'll want your stats to look something like this:
Vigor: 40
Mind: 40
Endurance: 25
Strength: 11
Dexterity: 30
Intelligence: 50
Faith: 6
Arcane: 9
Your path to this destination can be varied according to what you find most useful, but you should at least prioritize getting your core stats to 20 before you start pushing past that. That's the first soft cap for most stats, after which the per-level gains diminish somewhat.
Prisoner Elden Ring Weapons Guide
In Elden Ring, any weapon can carry you through to the end of the game, but the Estoc the Prisoner starts with is pretty underwhelming. Swapping it for the Uchigatana will likely make your life a lot easier. This long katana has great range, a swift attack, great Dexterity scaling, a Weapon Art that pummels enemy stance, and the ability to inflict Bleed.
The Deathtouched Catacombs, where you can find the Uchigatana. / Courtesy of FromSoftware/Bandai Namco, Screenshot by Noam Radcliffe
To get it, head to the Deathtouched Catacombs in West Limgrave. You'll find them set into the cliffs east and just north of the Warmaster's Shack. Proceed through the dungeon until you're attacked by two skeleton archers firing down on you from above. Make your way up there and you'll find the Uchigatana waiting to be wielded, one- or two-handed.
Head southeast of Limgrave and across the Bridge of Sacrifice to find the Demi-Human Queen's Staff. / Courtesy of FromSoftware/Bandai Namco, Screenshot by Noam Radcliffe
For a relatively early upgrade to your staff, make your way to the Demi-Human Forest Ruins on the south side of the Bridge of Sacrifice. Clear the ruins of the mobs inside, and the giant one will drop the Demi-Human Queen's Staff.
Prisoner Elden Ring Armor Guide
As the Prisoner, you're not locked into any particular style of armor. Light armor allows you to roll faster and with slightly more frames of invincibility, but will cost you the option of wearing heavier armor. Heavy armor has massive damage reduction capabilities, but forces you into a slow and vulnerable roll. Medium armor strikes a balance between the two.
If you decide to stay light, you can shed some of your starting equipment — after all, armor matters much less than good dodging. Sticking with the starter kit will have you medium rolling, and you'll quickly pick up some heavy armor just from killing enemies over the course of the game. Most of the best armor in the game you won't be able to find until later, but as is always true in Souls games, the true best armor is the one in which you don't get hit.
Alternatively, you can find guides here for the Warrior or Vagabond classes.