Prototype Alpha Warzone: How to Get the Weapon Blueprint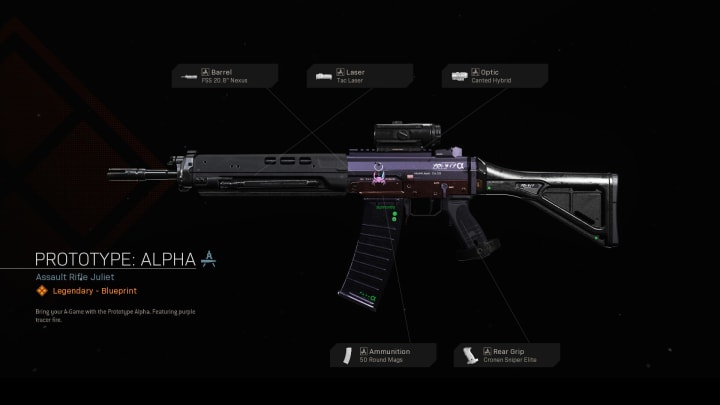 Prototype Alpha can be purchased as a part of the "Tracer Pack: Purple" weapon blueprint / Courtesy of Activision/Infinity Ward
Prototype Alpha Warzone weapon blueprint is now available. The blueprint is for Assault Rifle Juliet, or more commonly known as the Grau 5.56. It is considered a Legendary blueprint and features a shiny purple finish as well as purple tracer rounds. The attachments appearing in this blueprint is the FSS 20.8' Nexus Barrel, Tac Laser, Canted Hybrid Optic, Cronen Sniper Elite Rear Grip, and 50 Round Mags for ammunition.
The weapon blueprint increases the weapon's accuracy and range tremendously making the assault rifle a lot more reliable at long ranges. Control is also increased significantly, but the 50 round mags limit mobility significantly. This blueprint is built for medium-long range engagements with a larger clip and easier recoil control.
Prototype Alpha weapon blueprint statistics... / Courtesy of Activision
Prototype Alpha Warzone: How to Get the Weapon Blueprint
The weapon blueprint is available in the store as a part of the "Tracer Pack: Purple" bundle. The bundle also includes Prototype Omega which is also a legendary weapon blueprint for the MP7 that also has purple tracers. The bundle comes with three other items: the Stinging Nettle combat knife, Stabby Crabby charm, and the Whiskey Tango Foxtrot calling card.
The bundle costs 1,600 COD points and is available now. This looks to be one of the last bundles released before Season 4 starts on June 2.