PUBG Console Update 8.1 Adds New Loot Truck Exclusive to Sanhok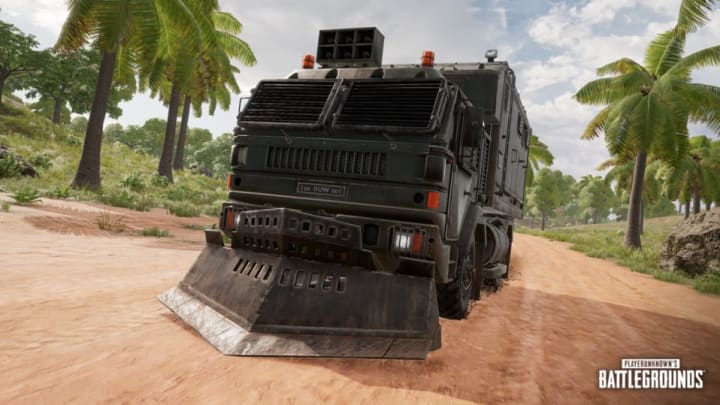 PLAYERUNKNOWN'S BATTLEGROUNDS Console Update 8.1 introduces Loot Trucks, an all new feature exclusive to the remastered Sanhok. / Photo courtesy of PUBG Corp
PLAYERUNKNOWN'S BATTLEGROUNDS Console Update 8.1 introduced Loot Trucks, an all new feature exclusive to the remastered Sanhok.
PUBG Update 8.1 is live now following the end of maintenance. The update not only finally improved gas cans mechanics and reintroduced Sanhok, but also brought to life Season 8 of PUBG Ranked and an all new Survivor Pass: Payback.
PUBG Console Update 8.1 Adds New Loot Truck Exclusive to Sanhok
PUBG Console Update 8.1 introduces the Loot Truck to not only players but also the remastered Sanhok. With so many redesigned areas in Sanhok, players can also expect to see four of the all new Loot Trucks roaming Sanhok.
Loot Trucks are destructible and players can only shoot or explode the vehicle. By damaging the Loot Truck, players can earn loot and when the truck is destroyed, high-tier weapons drop. With such powerful weapons for free, players must be wary for opponents, but also the time it will take to deplete the massive amount of health points of a Loot Truck.
Once a Loot Truck is destroyed it will respawn in another garage and will begin its new route immediately. In total, there will only be eight Loot Trucks in a single match. In addition, the Loot Truck will not be available for players in Ranked mode, only for those in a normal match.
Shooting a Loot Trucks may be a good method to gain powerful weapons but it can easily expose a players location. If a player believes the trade off is good enough, it could easily see lots of attention, possibly even making players engage earlier on in a match.
PUBG Console Update 8.1 is live now on PlayStation 4 and Xbox One.