PUBG Console Update 8.1 Sanhok Remaster: Updated Landmarks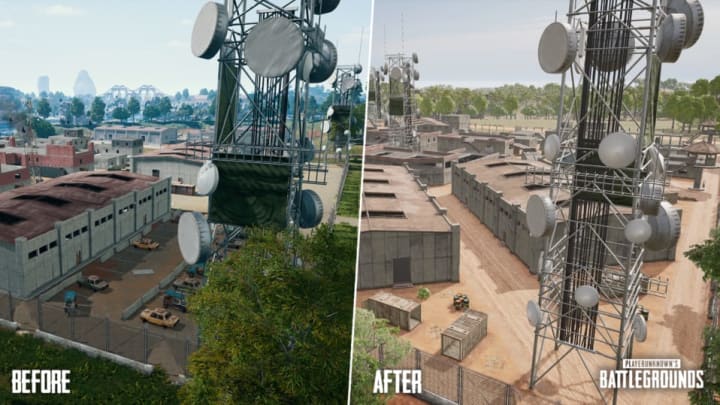 PLAYERUNKNOWN'S BATTLEGROUNDS console update 8.1 introduces a Sanhok remaster including updated landmarks that are live now on live servers. / Photo courtesy of PUBG Corp
PLAYERUNKNOWN'S BATTLEGROUNDS Console Update 8.1 introduced a Sanhok remaster including updated landmarks that are live now on live servers.
Players have had a chance to play with Update 8.1 on Test Servers but since the end of the maintenance period last night, players can now experience the whole update on Live Servers. PUBG Update 8.1 also introduces the new Loot Truck, an all new Survivor Pass: Payback and Season 8 Ranked Mode.
PUBG Console Update 8.1 Sanhok Remaster: Updated Landmarks
PUBG Console Update 8.1 introduces new Sanhok changes to many popular landmarks but also to smaller areas around the map.
Fan favorite landmark, Bootcamp, has been remastered to have a more sleek and organized set up. It's new look has a more modern army base look and with an underground area, players can face opponents in both close and long range fights. This new location will be a highly populated drop zone and it will be interesting to see the tactics players use.
Airfield is a new landmark that replaces Mongnai and is sure to be a popular place due to one key feature. This location will be the only area where Motor Gliders will spawn for Sanhok, so expect players to aggressively compete for the flying vehicle.
The Docks has been renamed and redesigned to Getaway which now looks like an abandoned or poorly maintained night life area. The new landmark will have improved loot spawns unlike the Docks. In addition, it will feature poolside bars, a dance club and neon haze.
Other locations have also been redesigned with PUBG Upcdate 8.1. This includes Ruins and Temple having a less destroyed look and with better designs. Overall, the entire Sanhok will look more like a jungle with more trees and overgrown vines around the map.