PUBG Patch 8.1 to Add Long-Promised Gas Cans Changes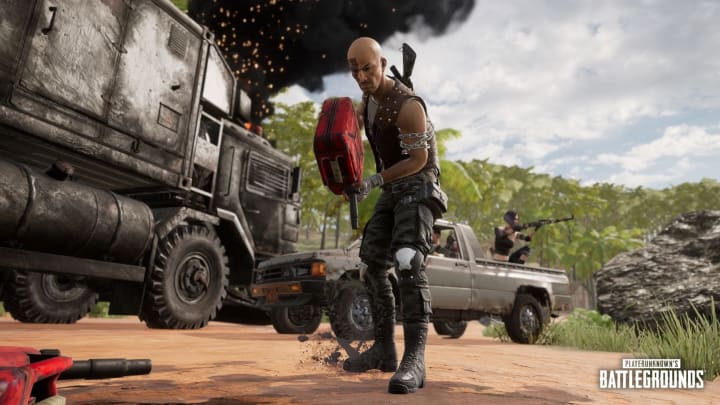 PLAYERUNKNOWN'S BATTLEGROUNDS Patch 8.1 patch notes revealed gas can changes that were previously meant to be released in Patch 7.2. / Photo courtesy of PUBG Corp
PLAYERUNKNOWN'S BATTLEGROUNDS Patch 8.1 patch notes revealed gas can changes that were previously meant to be released in Patch 7.2 will finally hit live servers July 22.
PUBG Patch 8.1 Gas Can Changes to Finally Come
Originally meant to be released in PUBG Patch 7.2, gas can improvements are set to arrive in PUBG Patch 8.1.
PUBG players will be able to equip a gas can as a melee weapon and pour the gasoline out with the attack button. It will take seven seconds to completely pour out the entire can, and players can expect it to blend with the environment better than previously, making it easier to set traps using gas trails.
Gas cans will now also splatter and when lit, reacting like Molotov cocktails, resulting in a lit area rather than just a line. As normal, players can light gas trails with guns and explosives, but those fires will last longer — around 20 seconds — than a Molotov. Like a Molotov, they will also cause damage around an area over time. They will deal a maximum of 40 damage, with decreasing damage over longer distances. Unlit spilled gas will evaporate from the ground after three minutes and 30 seconds.
Gas cans can also be thrown like any other melee weapon, but after being thrown they cannot be picked back up. While in the air, they will leak some gas and players will be able to shoot the the gas can or spilled gas to spark a fire or detonate the can. In addition, players can explode the gas can when it's lying on the ground after being thrown.
PUBG Patch 8.1 also introduces a newly redesigned Sanhok, complete with new landmarks, a new ranked season, and new season missions.