PUBG Player Lands 100 Meter Ax Throw to Win Match
By Jun Kok | Jul 30, 2020, 11:32 AM EDT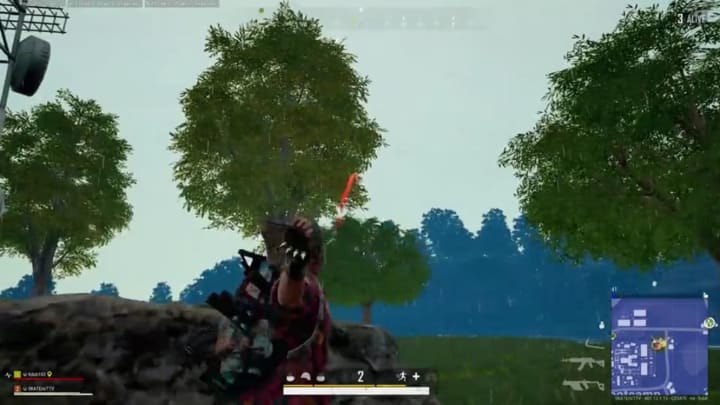 PLAYERUNKNOWN'S BATTLEGROUNDS player lands ax thrown from 100 meters away to win the match after an explosive beginning. 
PUBG Update 8.1 has been live long enough for players to have created new tactics and explored the remastered Sanhok. The jungle-like island introduced Loot Trucks into the game as they are traveling through the redesigned or renamed landmarks. Most importantly, Season 8 began which included a new Ranked season but also a new Survivor Pass: Payback.
PUBG Player Lands 100 Meter Axe Throw to Win Match
Redditor u/Xxskateric10xX found themselves in a 1-v-1 situation at the end of a duos match. Using a rock as cover, the player knew the final opponent was behind the tree at the other end of the play zone. 
The player and opponent exchange frag grenades as they explode near each player but far enough so that it didn't hurt the player. Eventually, the player ran out of grenades and started throwing molotovs, creating a field of fire. One molotov landed perfectly and caught the opponent on fire. 
The opponent made a dash across the screen to escape the fire zone but the player closely followed. Despite having guns in hand, the player equipped an ax and readied their aim. Letting loose, the ax looked like it wouldn't hit the target but the player had anticipated the run that the opponent ran straight into the flying ax, killing them.
The player celebrated the victory by firing a few shots as the "Match Finished" notification appears, ending the game with nine kills. Comments filled the Reddit post with praise and one comment asking how the player had an ax in-game. The player replied that it was a skin for the sickle that they had received in a previous Survivor Pass.
The all-new PUBG Survivor Pass: Payback features nearly 100 new skins and cosmetics for players to earn as they level up.