PUBG Streamer Goes for a Swim After Car Slips Through a Bridge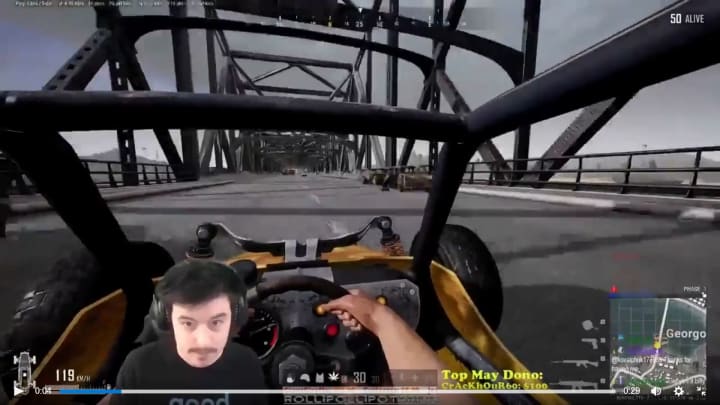 Rollipollipotamus Twitch stream clip / Photo courtesy of PUBG Corp
Twitch streamer Rollipollipotamus nearly encountered death in a PLAYERUNKNOWN'S BATTLEGROUNDS match because of a glitch in the game that has seen other vehicles also slip through a bridge.
PUBG Streamer Goes for a Swim After Car Slips Through a Bridge
With 50 players remaining in the game, it is safe to say Rollipollipotamus was not expecting to face death so early on. Just driving through the map and trying to cross the bridge, little did he know that he would be faced with an issue. Quickly, his vehicle and player slips through the bridge and slowly descends to the bottom of the water.
Filled with confusion and rage, Rollipollipotamus shouts and swears as his vehicle flips upside down. Soon enough, he is seen swimming to the surface, a happier ending than some of the others who have slipped through a bridge.
Other PUBG players have also faced this issue but some have faced death that have been posted on Reddit such as u/SandmanDr3am3r. Redditor SquatcherYerMa faced a similar issue to Rollipollipotamus but was lucky to keep his vehicle, minus some health points, due to being in a different map.