FIFA
Raheem Sterling FIFA 22: How to Complete the Premier League POTM SBC
By Michael Grullon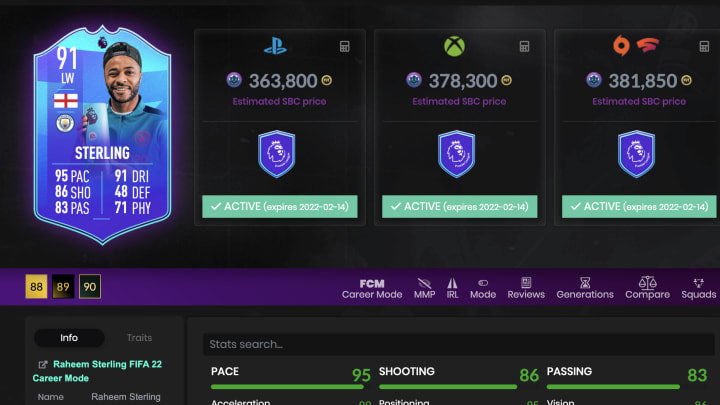 Raheem Sterling has officially won the Premier League POTM award for December. / Photo Courtesy of FUTBIN
Raheem Sterling has officially won the Premier League POTM award for December, and EA Sports has rewarded him with a special POTM SBC in FIFA 22 Ultimate Team. The Englishman scored five goals for Manchester City in December, helping them stay atop the table in the Premier League.
The SBC is now live in FUT. Here's how to complete the Sterling POTM SBC in FIFA 22.
Raheem Sterling FIFA 22: How to Complete the Premier League POTM SBC
The Sterling POTM SBC requires three squad segments to complete, each with the following requirements:
Squad 1
TOTW Players: Min 1
Squad Rating: Min 85
Team Chemistry: Min 75
Reward: Small Rare Gold Players pack
Squad 2
Players from England: Min 1
Squad Rating: Min 86
Team Chemistry: Min 65
Reward: Rare Electrum Players pack
Squad 3
Players from Premier League: Min 1
Squad Rating: Min 87
Team Chemistry: Min 55
Reward: Mega pack
From scratch, the Sterling POTM SBC will cost around 360,000 coins to complete. Sterling's POTM is a +1 upgrade over his Winter Wildcards item, however doesn't feature the four-star weak foot upgrade that the Wildcards item does. Sterling is a great player in this year's FIFA with his top-level pace and dribbling. His shooting upgrade is also a good one, with his POTM having 95 attacking positioning and 89 finishing.
Sterling's POTM is available through TOTY, so while he is expensive, you can grind through TOTY packing fodder and complete other SBCs to get the cards needed to craft him. You also get around 90,000 coins worth of packs in return, so this SBC overall is a decent value to grind for.
Sterling's POTM expires on Feb. 14