Raphael Guerreiro FIFA 22: How to Complete the Shapeshifters SBC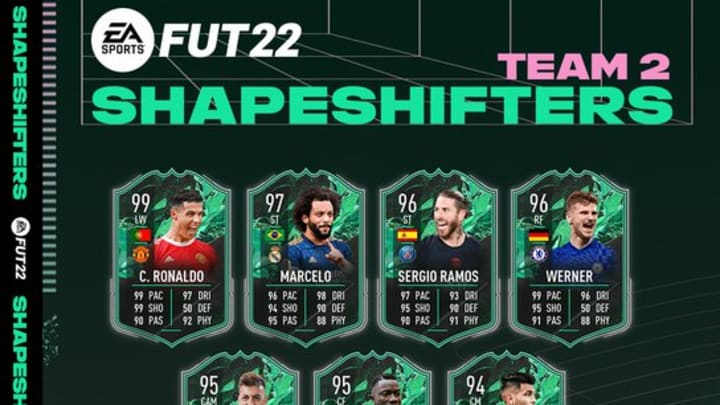 Photo by EA Sports
Raphael Guerreiro FIFA 22 Shapeshifters SBC went live June 24, the same day Team 2 entered packs during the promotion.
Shapeshifters is a FIFA Ultimate Team promotion centered around changing players' positions and how they traditionally operate in games. Moving defenders to attacking positions, changing a winger's side and strong foot are some of the prominent themes in Shapeshifters. EA Sports released a Raphael Guerreiro SBC as a player pick letting players who complete the SBC to choose between two items.
Raphael Guerreiro FIFA 22: How to Complete the Shapeshifters SBC
Here's how to complete the Shapeshifters Raphael Guerreiro SBC in FIFA 22:
Segment 1
# of Players from Portugal: Min. 1
TOTW or TOTS Players: Min. 1
Squad Rating: 84
Team Chemistry: 65
# of Players in the Squad: 11
REWARD: Premium Electrum Players Pack
Segment 2
# of Players from Bundesliga: Min. 1
Squad Rating: 86
Team Chemistry: 55
# of Players in the Squad: 11
REWARD: Prime Electrum Players Pack
Guerreiro's base item for Borussia Dortmund is a left-back. Players can choose between a central midfielder and a right-back.
Here's a look at the CM card:
Photo by FUTBIN
Here's a look at the RB card:
Photo by FUTBIN
Both cards are absolutely insane. There's no doubt about that. Considering the amount of top-tier RBs in the game, but lack thereof from the Bundesliga, players might opt for the defense item. Though, the midfield item will provide valuable links to top Portuguese players like Cristiano Ronaldo, Bruno Fernandes and Bernardo Silva.
The only downside to this SBC, especially at this price, is that players can't get both cards. A top SBC from EA Sports to kick off FIFA 22 Shapeshifters Team 2.