Red Dead Online Frontier Pursuits: Everything You Need to Know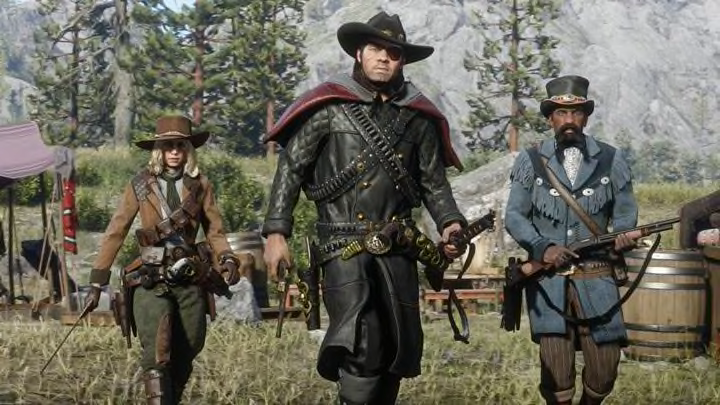 Red Dead Online Frontier Pursuits is a major update to Red Dead Redemption 2's online mode.
The first three Frontier Pursuits went live in Red Dead Online Patch 1.11 after being announced Sept. 3. Frontier Pursuits are essentially new roles you can adopt in-game for new activities, skills and more.
Here's everything you need to know about the first Frontier Pursuits in Red Dead Online.
Red Dead Online Frontier Pursuits: Everything You Need to Know
The three Frontier Pursuits are the Bounty Hunter, the Trader and the Collector.
Bounty Hunter
"Licensed Bounty Hunters can pick up work by visiting bounty boards located near law offices, post offices and train stations across the states. There is no shortage of criminals to be dealt with and the targets range in difficulty, from lone low-level criminals to notorious outlaws with armed protection details and a watchful eye," Rockstar said in its announcement.
Here's a list of some skills and items Bounty Hunters can obtain:
Dual Gun Spinning: Perform gun spinning tricks with two pistols or revolvers
Ducking: Duck for protection while on horseback
Reinforced Lasso: A lasso made with reinforced rope to keep bounties secure
Tonics Satchel Upgrade: Store more items in your Tonics Pouch
Trader
"Your trusted camp companion, Cripps, has long dreamed of starting a trading outpost and you're going to help him make it happen - by becoming a partner in the fledgling Cripps Trading Company. Combining Cripps' lifetime of working with animal materials and your skills at hunting and frontier security, you'll have the perfect ingredients to develop a thriving business," Rockstar said.
Here are some skills and items for the Trader:
Stew Pot: A camp upgrade that unlocks stew recipes to boost cores
Canine Warning: Train your dog to warn of thieves raiding your camp
Lance Knife: A bespoke knife style available to Traders only
Collector
With Madam Nazar's help, you will be able to explore the world finding valuable treasures, whether they're discarded Tarot cards in abandoned camps, buried treasures unearthed with your trusty shovel, hidden family heirlooms and more," Rockstar said.
Here are some skills and items for the Collector:
Aguila Machete: A classic machete restyled for the use of adventurous and belligerent Collectors
Metal Detector: An important tool which can identify collectibles buried underground
Equine Assistance: Collect herbs from horseback
Intuition: Narrow your search area
Photo courtesy of Rockstar Games