Red Doors Are Coming to Call of Duty: Warzone Season 5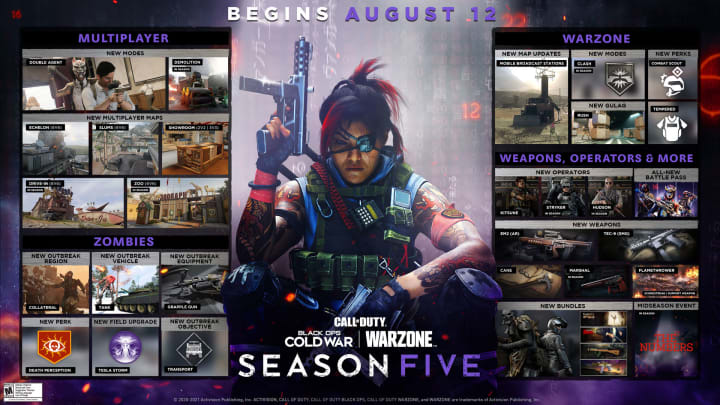 A short entry in the latest official Call of Duty blog post has revealed that Red Doors will be making an appearance in Warzone Season 5. / Activision
A short entry in the latest official Call of Duty blog post has revealed that Red Doors will be making an appearance in Call of Duty (COD): Warzone Season 5.
While brief, the entry on the post was certainly enough to spark interest. Red Doors have become something of a phenomenon in the game ever since their first leak which, strangely enough, came via survey response. They were originally conceived as a sort of fast travel system, according to the survey. However, in practice they're much more random than the traditional mechanics put in place through other games.
Here's everything we know about Red Doors in Season 5.
Warzone Season 5 Red Doors Event
According to the blog post, the doors are supposed to appear as a "mid-season event"—whether in part or on their own remains to be seen. Unfortunately, we don't have a concrete release date at the time of writing. There are also no verifiable leads around dates and/or times players can expect Red Doors.
We do assume players will be seeing the doors no later than September, however, considering the historical timeline of "mid-season" drops and patches in Warzone.
Their operation seems to be more intentionally chaotic than their previous appearance in Season 4. The post warns players to "beware of these doors sending you to locations" other than the single room once though to be their sole destination. Above all else, when walking through the doors, players should "keep your head."
Intel attributes this to the Perseus broadcast pushed forward in the Season 5 trailer featuring the newest operator, Kitsune. It has caused them to "become more volatile." The post states that operators are reporting more incidents regarding a redacted variable with the doors.
As far as places to find the doors goes, our biggest lead is the Mobile Broadcast Stations positioned all over Verdansk. They're mentioned specifically by name in association with the event, but intel refuses to "declassify further intel for fear of double agents." For now, we encourage players to keep their eyes on these stations moving forward.
Information will be updated as it is made available.
The full post can be found on the official Call of Duty website.