Apex Legends
Respawn Dev Confirms Crypto Buffs to Follow Season 11's Wattson Rework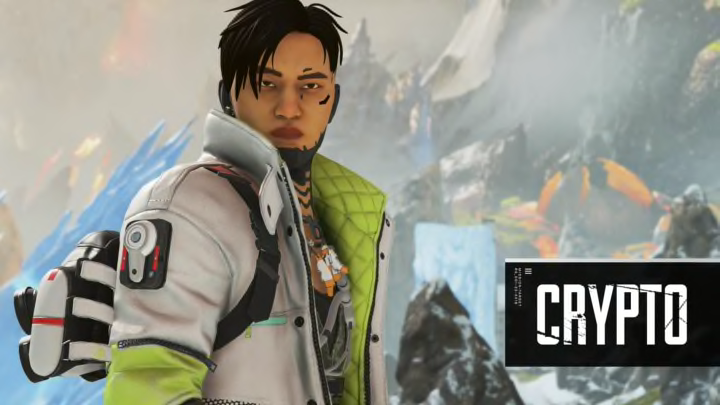 Crypto in Apex Legends / Credit to EA/Respawn
Crypto is the next legend to receive some buffs after the Season 11 Wattson rework according to one of Apex Legends' producers.
Crypto was a fairly popular legend upon his initial release in Season 3, but his pick rate plummeted soon after as players began to realize his kit left much to be desired. The most common complaint players had with the surveillance expert was that he had to split his time between piloting his drone to give his team valuable information on the enemy and using his weapons to support his team in a firefight. This made Crypto very unpopular in comparison to Bloodhound who could both provide information and fire his weapon at the same time. There have been fan-made reworks that aimed to make Hack more autonomous, but none of them ever earned much recognition from Respawn.
Recently though, XFactor, a partnered Facebook broadcaster stated on twitter that developers confirmed on Reddit that Crypto will be receiving some buffs sometime in the future.
"Devs have confirmed on reddit that Crypto is going to get a rework or improvements in the future. No time table yet," XFactor said.
Though the source XFactor mentions in his tweet is unnamed, Apex Legends Producer Josh Medina did respond to the tweet the same day. In his response Medina confirmed that Crypto will be the next legend to be reworked and that it will be at least in-part done by the same developer who worked on the Wattson buffs.
"My guy who did Wattson is doing Crypto," Medina said.
Currently, we have no information on what these buffs will be or exactly when they are coming, but it is at least nice to know that Respawn plans to buff one of the least popular legends in the game.
Apex Legends Season 11 launches on all available platforms on Nov. 2.