Respawn Entertainment is Working on Fix for Encore Arena Map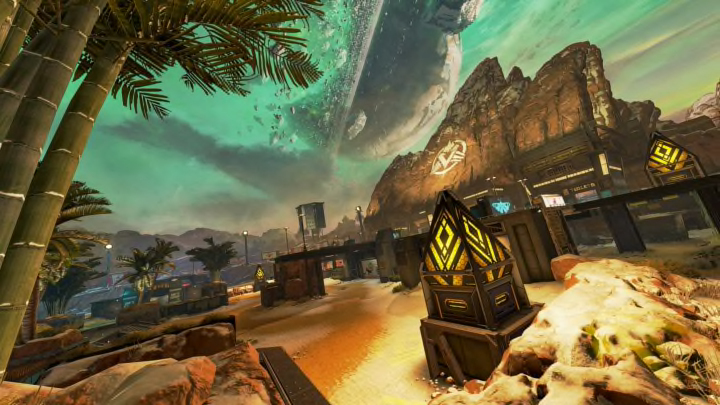 Encore in Apex Legends / Credit to Respawn/EA
The newest map to be added to Apex Legends' Arenas mode is Encore, a map set on Seer's home planet of Boreas. The map itself is very well made and many players agree that it is one of the more fun Arenas maps to play on when it's working properly.
Unfortunately, some Apex players have been running into glitches that are frustrating, to say the least. Reddit user u/Debroodpiraat recently shared a clip where they are repeatedly shot through a wall. From u/Debroodpiraat's perspective, it's almost as if the wall doesn't exist from the enemies' point of view.
Apex Legends' lead level designer Dave Osei (u/StryderPilot on Reddit) responded to the clip in question and confirmed that Respawn is currently working on a fix.
"Ugh, I'm sorry. This sucks. W should've caught this earlier. Working on a fix," Osei said.
And this isn't the only glitch burdening players on the new map. Reddit user u/RandyLeeDandy recently shared a clip where they were able to wedge themselves into a corner in such a way that they were invulnerable, but also unable to do damage to the enemy team. U/RandyLeeDandy somehow got themselves stuck behind an invisible wall so perfectly that the enemies could do nothing but stare at them.
Clearly Encore has several areas and small corners where the geometry needs to be reassessed and smoothed out before it, an otherwise stellar map, earns a poor reputation for being a bug-fest. And the sooner these changes happen the better because Encore is already in the competitive Arenas map rotation.
This also isn't the first time that Arenas mode specifically has suffered from glitches. In early July there was also a glitch that would crash the entire game when players alerted their team that their ultimate was fully charged by pinging it.