Riot Games to Host Valorant Community Event RE//LOAD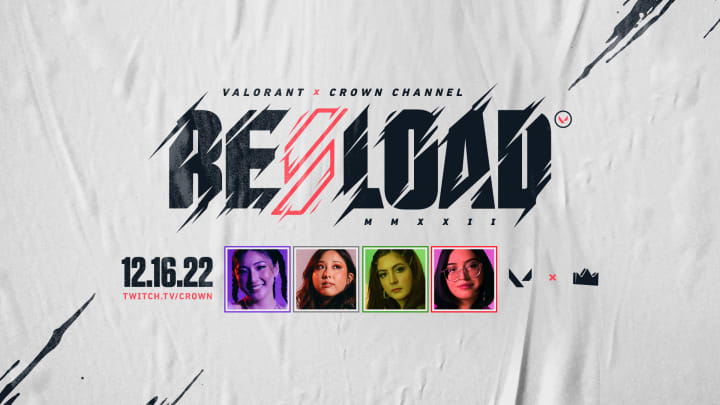 Riot Games
Riot Games has teamed up with Amazon to host RE//LOAD: an end-of-year live event to celebrate all Valorant players. From pros, to streamers to fans.
Announced today, RE//LOAD will be centered around a variety of content, including a Pro AM tournament with four teams of Valorant creators. At the helm of each team will be a captain: bnans, Starsmitten, xChocoBars and Mel.
As for the full list of competitors, fans can look forward to seeing:
Team Undercity
xChocoBars (captain)
Peter Park
itsRyanHiga
Shiphtur
Punz
Team Vengeance
Mel (captain)
Kyedae
Alexis
jessica
ethos
Team RGX
bnans (captain)
iiTzTimmy
LuluLovely
Just9n
shroud
Team Protocol
Starsmitten (captain)
BoxBox
Stewie2k
AverageJonas
AngelsKimi
RE//LOAD will be an in-person and virtual event experience presented by Crown Channel in partnership with Riot Games. The event will take place on Friday, Dec.16 from 10 a.m to 3 p.m. PDT, and hosted by Myth and Jacki Jing.  
"We're thrilled to partner with Amazon and the folks at Crown Channel to co-host the RE//LOAD event experience for our Valorant community," said Nikki Lewis, Senior Director of Brand Marketing at Riot Games.
"Valorant lives at the intersection of competitive gaming and up-and-coming music, so partnering with Amazon's Crown Channel to throw an in-person event like RE//LOAD — both a gaming event, starring some of Valorant's fan-favorite streamers, and a music event, featuring rising artists like Mike Dimes, Jae Park, and Dabin — was a no-brainer."
How to Watch Valorant Community Event RE//LOAD
The entire event will be streamed live from Atlanta, Georgia. Fans can watch along via the RE//LOAD Twitch stream.
RE//LOAD will also feature a DJ set from Dabin, a surprise guest appearance, and a musical performance from Mike Dimes.