Roblox is Finally Coming to PlayStation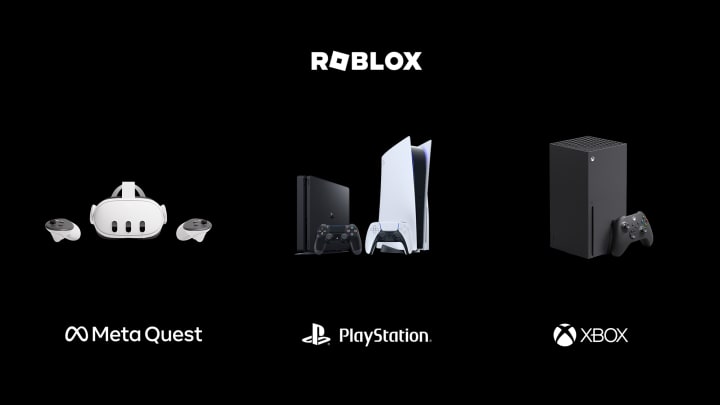 Roblox is also going to be on the Meta Quest. / Roblox
Roblox is an online platform created by the Roblox Corporation. It's known for allowing the community to develop games on the website and play games made by other users worldwide. Roblox launched back in 2006 and has come a long way since. The platform boasts an average monthly user base of 214 million, with the demographics being primarily teenagers and kids.
Windows, Mac, Android, iOS, and Xbox owners have enjoyed the online platform for years. PlayStation users will finally get to join the fun in 2023.
In a 2023 Roblox Developers Conference blog post, the Roblox Corporation confirmed that Roblox will arrive on PlayStation 4 and PlayStation 5 in October 2023. We have yet to hear an exact date of the release. The company also announced significant modifications that will help Roblox developers and improve player experiences.
The Roblox Corporation dedicates itself to making realistic avatar movements through character creation and expression improvements. The team emphasizes how these changes "... enable people to have emotional connections in these immersive experiences in the same way we do outside of them. " Specific changes include new mesh and texture APIs and a function that allows people to preview their avatar's facial expressions, emotes, clothing, and accessories.
Roblox is Coming to PlayStation
Roblox Connect will make its first appearance soon, too. The product lets Roblox users call others using their avatars and motion-capture technology. Think of it as FaceTime using Roblox avatars.
Roblox developers can now test their games on the Meta Quest 2 and Meta Quest Pro, virtual reality headsets created by Meta Platforms. This allows creators to gain feedback on their games before Roblox is officially released on Meta Quest in September.
Developers will be able to create Roblox games more efficiently with a generative AI tool named Assistant. Creators can access Assistant via Roblox Studio and Creator Hub later this year.
Creators can also expect new ways to earn on Roblox. This includes subscription models that developers can offer and improvements to the Marketplace.
Last but not least, the Roblox Corporation plans to "foster civility" with new tools, such as an ML architecture built to detect verbal communication that violates policy.