Top Games
Roblox Reaches $38 Billion Valuation After First Day of Public Trading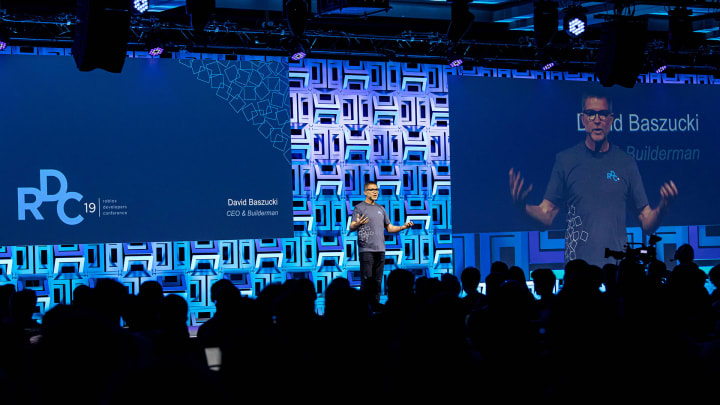 Roblox CEO and founder David Baszucki in 2019. / Photo courtesy of Roblox
Roblox had its initial public offering Wednesday and closed the day of trading with a $38 billion market cap with a $69.50 stock price.
For comparison, Ubisoft's market cap is $8.16 billion. Take-Two's is $18.98 billion. Not even the mighty Electronic Arts can compete, as its market cap is currently $37.43 billion.
"We are deeply humbled by the overwhelming support for @Roblox and our public offering today," tweeted CEO and founder David Baszucki.
Roblox's platform allows users to develop multiplayer-focused games, then make money from their creations. Some developers on the platform have made millions of dollars through it, as 70% of what players spend on their games goes to those developers. Roblox says more than half of its users are under 13 years old.
Roblox has ambitions to continue building out what it calls the metaverse, a space for music, games, movies and just about everything else.
"We have a vision of the metaverse as a place where people come together to do things. And that could be having a virtual birthday party or that could mean studying ancient Roman history and going there with your friends," Baszucki said Wednesday in a virtual recreation of the New York Stock Exchange.
Epic Games has similar ambitions for a metaverse, but Roblox's market cap is more than double its competitor's.
Roblox's popularity surged during the COVID-19 pandemic as people were forced to stay at home. Its daily user numbers increased by 85%, while monthly users went up by 75%. Those increases contributed to an 82% increase in revenue for a total of $923.9 million in 2020, but the company still has yet to turn a profit. It lost $253.3 million that year, up from $71 million the year before.
Experts expect Roblox's growth to slow as lockdowns lift, but its revenues are still predicted to climb by more than 50%.