Top Games
Rocket League Enters its Eighth Season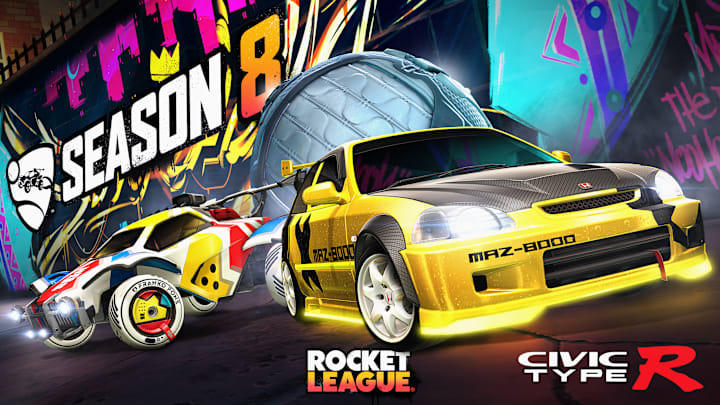 It's time to 'Hit the Streets' as Rocket League heads into its eighth season next week, Sept. 7. In an announcement Thursday, Psyonix revealed the details of the upcoming season, teasing new content for players to look forward to. 
Entering the vehicular soccer arena is the Honda Civic Type R, marking the first-ever real-life car to come included in Rocket Pass Premium. Designed by the racing team at Honda, this hatchback vehicle will have the same hitbox as the Octane. By leveling up the Rocket Pass, players also have the opportunity to earn the Honda Civic Type R-LE. To deck out these new additions further, an EdgeLight package, unlockable in Rocket Pass Pro Tiers 70 and above, will give a unique glowing effect wrap at the bottom of the car's body kit. 
This season will offer players over 70 rewards, which will include the following graffiti and old-school themed items:
Sprattle Boost
Big Cap Topper
Savage Spray Goal Explosion
Dumpster Fire Player Banner
Wrapstar Decal
Franko Fone Wheels

Season eight will have players go head-to-head in the new 90's inspired Sovereign Heights Arena. Located in the middle of the big city, a notable Rocket League landmark, the PsyNet building, can be spotted outside of the arena. A new hoop arena is will also available later on in the season, giving the game a local street appeal. Check out the new season in the trailer below!
The launch of the new season will also bring more tournaments with exclusive rewards such as the Sk8s Player Banner and Hibachi Topper. A rare Black Market Tournament Reward will unlock a twinkling Starliner Decal and an Amplitude Goal Explosion which give lucky players an electrifying finish to their goals. The Haunted Hallows event is also expected to return this year. 
News of season eight comes a day after Rocket League released the Ferrari 296 GTB into the game. The collaboration with the luxury sports car brands ends one day before the premiere of the new season.