Rockstar Announces Bonuses for Bounty Hunters, Weekly Discounts for Red Dead Online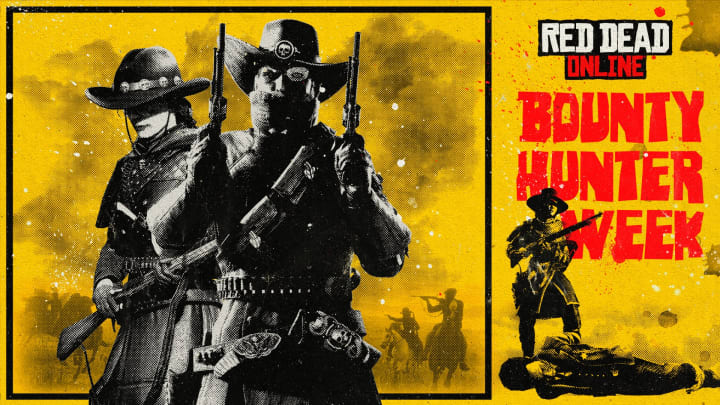 Mount-up and prepare for Bounty Hunter Week in Red Dead Online (RDO) this week, including bonuses to the role and special discounts. / Rockstar Games
Mount-up and prepare for Bounty Hunter Week in Red Dead Online (RDO) this week, including bonuses to the role and special discounts.
Ne'er-do-wells beware: it's Bounty Hunter Week in RDO. This week, Red Dead's fiercest vigilante lawmen will have the opportunity to show of their skills in exchange for massive amounts of loot in the form of RDO$ and experience. This week's discounts are geared toward bounty hunters, as well, with bolas and reinforced lassoes marked down for a limited time.
Red Dead Online Bounty Hunter Bonuses: Oct. 19
Bounty hunters will benefit from quite a few things this week, including an extra 50% RDO$ and Role-specific experience boost for all bounties, "including Legendary and Infamous criminals."
Any bounty hunter who completes a free roam mission will earn an offer of 30% off a bounty wagon on top of double the RDO$ and Role experience all week long.
Those who trade in their role experience for gold via the Awards menu will receive double bounty hunter experience rewards—meaning every 10k in experience will be eligible for a 1 gold bar trade-in.
Completed Player Bounties will earn extra tints for the Guerrero Gun Belt.
Red Dead Online Weekly Discounts: Oct. 19
This week, the discounts on RDO are all centered around bounty hunters—likely due to the bonus event and experience available in the last days of the fourth Quick Draw Pass.
The following items will cost less gold bars this week:
Bounty Hunter License (-5)
Prestigious Bounty Hunter License (-3)
All bolas—used by bounty hunters to incapacitate their targets—will be 50% off.
The reinforced lasso used primarily by bounty hunters will be 40% off.
Players will be able to redeem one of these items for 30% off:
All Novice, Promising, and Established bounty hunter role items
Prestigious Bounty Hunter's Lemat Revolver
Shotguns
Improved Saddles