FIFA
Rodrigo De Paul FIFA 22: How to Complete the FUTTIES SBC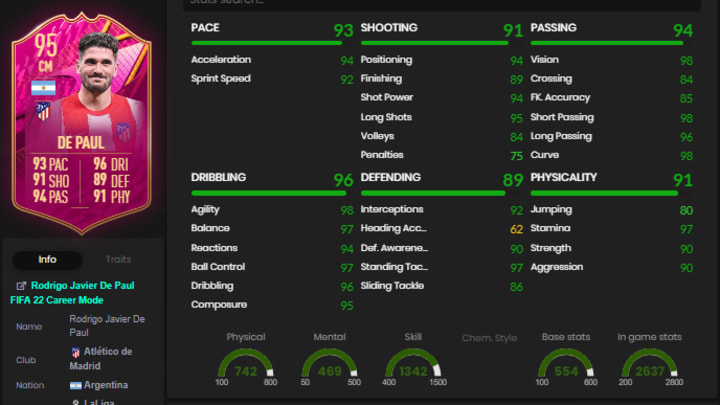 Photo by FUTBIN
Rodrigo De Paul FIFA 22 FUTTIES SBC went live July 15 at the start of the promotion celebrating how popular his Ones to Watch card was earlier in the game cycle.
FUTTIES is an annual FIFA Ultimate Team promotion marking the start of the end of the game cycle. The promotion operates like an awards ceremony where special items are chosen through fan votes, popular cards are upgraded and re-released, the Best Of enters packs from previous events, truly one of the most exciting events in FUT.
Atletico Madrid's De Paul received a 95 rated SBC item for FUTTIES celebrating his popular OTW item from earlier in the year.
Rodrigo De Paul FIFA 22: How to Complete the FUTTIES SBC
Here's how to complete the FUTTIES De Paul SBC in FIFA 22:
Segment 1
# of Players from Argentina: Min. 1
Squad Rating: 84
Team Chemistry: 70
# of Players in the Squad: 11
REWARD: Small Gold Players Pack
Segment 2
# of Players from LaLiga Santander: Min. 1
Squad Rating: 85
Team Chemistry: 60
# of Players in the Squad: 11
REWARD: Premium Electrum Players Pack
This is what FUTTIES is all about. High 90s in every statistical category outside of defending for De Paul and his defending is 89. Plus, he's got a five-star weak foot and four-star skills. One of the best looking cards released all year providing valuable links to all of those popular LaLiga players.
FUTTIES De Paul expires July 22.