'Royal Knight' Mercy Skin Released for Overwatch League Midseason Madness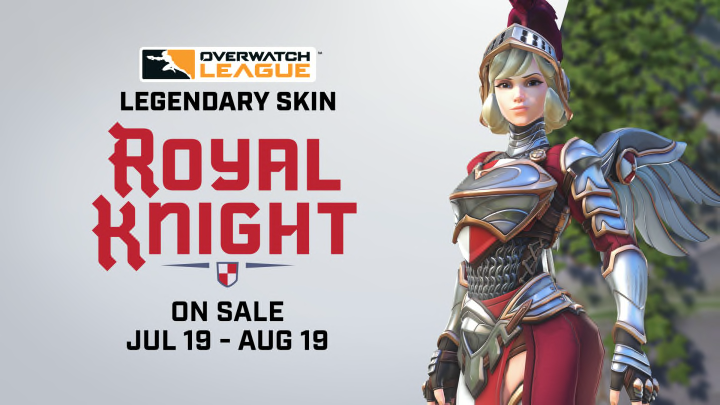 "Royal Knight Mercy is here to get you back in the fight!" / Image courtesy of Blizzard Entertainment
The "Royal Knight" Mercy skin has been revealed by Blizzard Entertainment in celebration of the Overwatch League's (OWL) Midseason Madness tournament.
To celebrate the first global tournament of the 2022 Overwatch League season, here's a breakdown of the brand-new, Legendary Royal Knight Mercy skin.
Overwatch Royal Knight Mercy Skin Price, Release Date, How to Get
From July 19 to Aug. 19, Royal Knight Mercy is available now for players to purchase in-game for 200 League Tokens ($9.99 USD), which can also be earned for free by watching live Overwatch League broadcasts.
According to Blizzard, this newest Overwatch League tournament-inspired legendary skin pays homage to last year's June Joust.
The Royal Knight skin features a lance-inspired staff, a classic plumed knight's helmet and armor from head to toe and colors that are intended to cater especially to any fans of the medieval ages.
Royal Knight Mercy weapon concept art / Image courtesy of Blizzard Entertainment
"The skin fits well with her characteristics of helping, protecting and being a guardian of the people," Blizzard concept artist Emily Siu said in the OWL blog post.
As with the Luchador Reaper skin, the winning team of the Midseason Madness global tournament will have a special champion version of the Royal Knight Mercy skin made.
This year's Overwatch Midseason Madness global tournament will run from July 18, to Sunday, July 24.
Here are the available viewership rewards for the Midseason Madness:
5 League Tokens per hour throughout the entire week, including official rebroadcasts
Fans who watch 2 hours of cumulative viewership will earn a full set of Overwatch League team mascot sprays
Fans who log 5 hours of cumulative viewership will earn Overwatch League Home and Away skins for Widowmaker