FIFA
Saïd Benrahma FIFA 22: How to Complete the Headliners SBC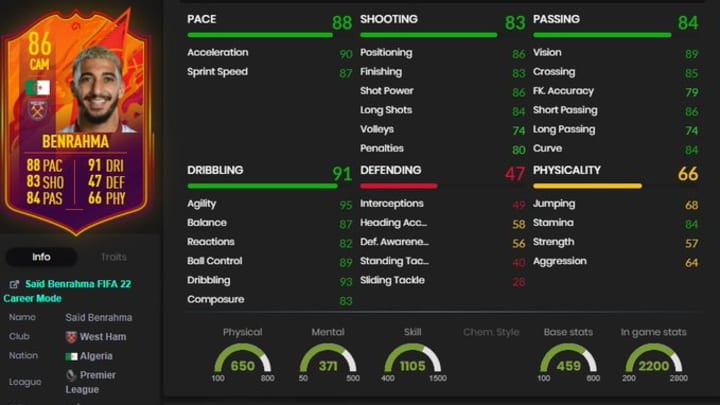 Photo by FUTBIN
Saïd Benrahma FIFA 22 Headliners SBC went live Jan. 5 as the second promotional player made available in the Squad Building Challenges section for Team 1.
Headliners are a special, live item type in FIFA Ultimate Team. These cards upgrade when players receive performance based upgrades (Team of the Week, Man of the Match). Headliners carry additional value because they get upgraded even further to keep them in front of the latest performance based item. So, if a player receives an 86 rated TOTW card, the Headliners item is upgraded to 87.
Finally, Headliners can upgrade one bonus time if a player's team wins four straight domestic league games for the rest of the campaign.
Saïd Benrahma FIFA 22: How to Complete the Headliners SBC
Here's how to complete the Headliners Benrahma SBC in FIFA 22:
Segment 1
# of Players from Premier League: Min. 1
Squad Rating: 83
Team Chemistry: 75
# of Players in the Squad: 11
REWARD: Premium Gold Pack
Segment 2
Team of the Week Players: Min. 1
Squad Rating: 84
Team Chemistry: 70
# of Players in the Squad: 11
REWARD: Electrum Players Pack
This SBC is a no-brainer when it comes to completing it. Considering how cheap fodder is currently, plus the 81+ Double Upgrade being available, this card can be completed easily. As a live item as well, Benrahma has the potential of upgrading throughout the year.
He's got good pace, decent shooting, passing and strong dribbling. Also, he has the Outside Foot Shot trait and four-star skill moves and weak foot.
Headliners Benrahma expires Jan. 12 at 1 p.m. ET.