Set 6 Challenger Series to Start 2022 TFT NA Esports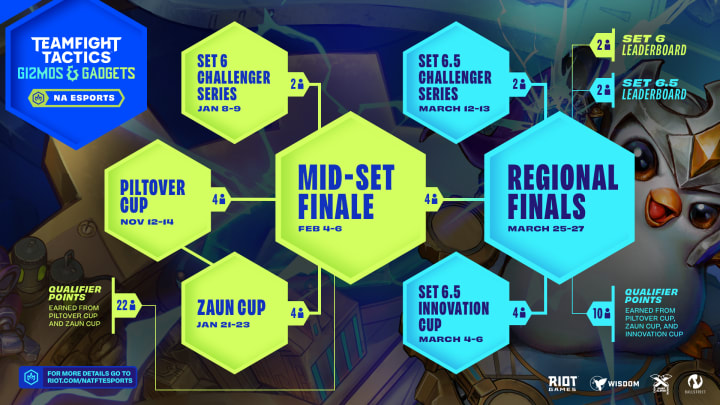 Photo by Riot Games
Riot Games will be hosting a Teamfight Tactics Set 6 Challenger Series
The Challenger Series will be live on Jan. 8-9 on the Teamfight Tactics Twitch at 7 p.m. ET.
Set 6 Challenger Series to Start 2022 TFT NA Esports
The top sixteen players from the North American leaderboard were chosen to participate after signing up. The top two players will also receive an invitation to the Gizmos & Gadgets Mid-Set Finale
The Set 6 Challenger Series will be hosted over two days. All 16 players will play five games and games will be sorted by the participants rankings. The top eight players will move on to the second day. The remaining eight will compete again and players must get 24 points total and first place to win, or a total of 40 points.
TFT tournaments are taking over this new year with both tournaments and this is just the start. Riot Games stated that the Set 6 Challenger Series is only the first of many in their NA Esports Roadmap for the new year.
On Jan. 21-23, the Zaun Cup will also be hosted and finalists from the Zaun Cup, Set 6 Challenger Series and Piltover cup will proceed to the Mid-Set Finale.
Set 6.5 will also have a separate leaderboard and tournaments. Starting in March with 6.5 Innovation Cup, Set 6.5 Challenger Series and finally the Gizmos & Gadgets NA Regional Finals, which will also host finalists from the Mid-Set Finale.