Top Games
Several Super Mario Titles to be Discontinued on March 31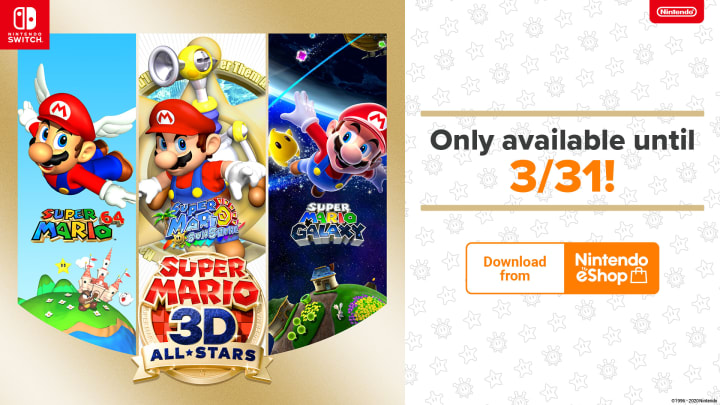 Nintendo is removing a host of Super Mario games from its stores on March 31—an event fans are dubbing the "death of Mario." / Nintendo
Nintendo is removing a host of Super Mario games from its stores on March 31—an event fans are dubbing the "death of Mario."
The company has seen fit to take down several popular and nostalgic titles from digital shelves with little to no reasoning—at least, according to fans. Beloved games such as Super Mario 64 will no longer be available to purchase in either physical or digital format at the end of the month.
A bit of an odd way to celebrate the franchise's 35th anniversary, we admit. Perhaps Nintendo has a different Power Star up its sleeve.
Several Super Mario Titles to be Discontinued on March 31
Starting on March 31, the following Super Mario games will be "vaulted" and inaccessible to players:
Super Mario 3D All-Stars (64, Sunshine, and Galaxy)
Super Mario Bros. 35
Super Mario "Game & Watch"
Super Mario Maker—servers will be taken offline
Fans of the franchise are not happy about this decision in the slightest. They have gone as far as to dub the event the "death of Mario" and the date of March 31 the "day that Mario dies." Even Nintendo's friendly reminder that the titles being taken down sparked a litany of negative replies.
"What a better way to celebrate Mario than making his most important 3D titles unavailable arbitrarily," wrote Twitter user @UltimaShadowX.
@MegaDriveBrad wrote, "Please stop doing this and actually make it not limited. People want to enjoy your games without having to worry & rush their way to buy it."
"No, Nintendo. You may think this FOMO tactic will help boost sales for the end of your fiscal year, but it's scummy, manipulative artificial scarcity that hurts consumers," @link5261 replied.
Others seemed unfazed, noting that the games had been up for quite some time and several physical copies still exist for those who would want to buy them secondhand in the future. A few even suspected that nothing was going to happen to the titles at all. That, in fact, the announcement is a ruse by the company to move event more product.
The memes have been spectacular, of course—but at what cost?