Shadowlands Update 9.1.5 is Going on the PTR Next Week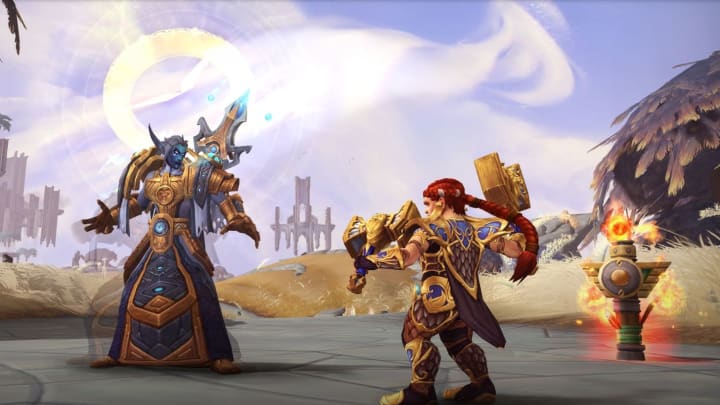 Shadowlands Update 9.1.5 will be going on the PTR next week. / Photo courtesy of Blizzard Entertainment
Shadowlands Update 9.1.5 is going on the Public Test Realm "in the next few days," Blizzard Entertainment announced Friday.
The World of Warcraft Development Team took to Twitter to share that in the culmination of focusing on the "immediate future" over the past few weeks, 9.1.5. hopes to showcase changes from the community's wish list based on direct collective feedback. From making it easier to swap covenants on alts, to removing Conduit energy and new character customization options for certain races, here's a breakdown of what will be included when 9.1.5 enters PTR testing next week.
Shadowlands 9.1.5 Going on PTR Next Week
Here's what set to be included with the 9.1.5 content update in Fall 2021:
Legion Timewalking with Mythic+
Improved Covenant Swapping
Conduit Energy Removal
Legendary Item Recycling
New Allied Race Customizations
Alt Covenant Campaign Skip
Legacy Raid Tuning
New Toys, Mounts and Travel Forms
Talent and Ability Buffs
Reporting Improvements
"While we hope many players will be pleased at the increased accessibility and freedom for experimentation these changes will permit," Blizzard community manager Randy "Kaivax" Jordan wrote in a dev update post, "we know that you might be wondering why we didn't make adjustments like these sooner. After all, a large portion of the community has been vocal about wanting to see changes along these lines since mid-2020, when Shadowlands was still in Beta.
"As the 9.1.5 PTR progresses, we hope to roll out several other changes aimed at giving you more flexibility in choosing how you prefer to adventure in Azeroth."
It's worth mentioning that for Burning Crusade Classic players, Blizzard also stressed that they can expect the first major content update, Overlords of Outland, to go live on Sept. 15, 2021.