Should Slots Have Been Banned on Twitch?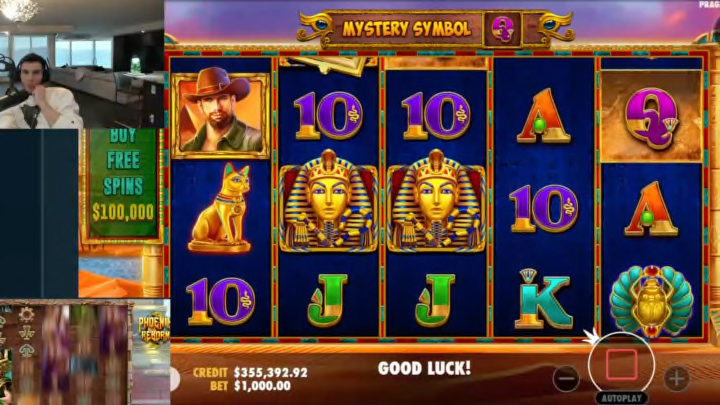 Trainwreckstv Slots Twitch Stream / Screenshot by Isabella Lieberman
In September 2022, Twitch Partner and member of gaming organization, OTK, Abraham 'ItsSliker' Mohammed admitted to scamming fans and fellow streamers for over $200,000. 
"I lied to many people," he told his stream on Sept. 17, 2022. 
For more than a year, he used the ploy that he needed money to pay bills because his bank account was frozen. As he borrowed more and more money from his friends and fans, he became entangled in a web of lies and debt. When the truth revealed itself, he was exposed for putting the sum towards his gambling addiction. 
The Twitter trend #Twitchstopgambling began to go viral, making Twitch a combat zone for the rest of September. Pitting high-profile streamers against themselves, this scandal was being used as an example of the dangers of gambling and why it should be banned on the platform. 
The controversy and the debates that followed this drama became a catalyst for Twitch to update its policy regarding gambling on Sept. 20, 2022:
"Gambling content on Twitch has been a big topic of discussion in the community," Twitch began its statement to Twitter. "We'll be making a policy update on October 18th to prohibit streaming of gambling sites that include slots, roulette, or dice games…" 
"I look on my phone and I see about 30 notifications: texts, calls, and all that," Adin Ross said as he began his Twitch stream the day after Twitch's announcement. "Did somebody die? Did something happen that I have to seek immediate attention to?" 
"Something did die," the 22-year old continued. 
Twitch partners, like Adin, were no longer going to be able to stream most forms of gambling content on the live-streaming platform. This would mark the end of an era for Twitch. 
Gambling's Rise on Twitch
Since its launch in 2011, Twitch has grown to be the largest online live-streaming platform. This success was driven by the creativity of its full-time Partners and part-time streamers. Though the website was built around gaming content, today there many different types of content thrive on the platform.
Leaving the choice of content up to the creator, Twitch has in place a list of restrictions in its Community Guidelines to protect its viewers and to "foster a community that supports and sustains streamers' ability to express themselves, and provides a welcoming and entertaining environment for viewers, free of illegal, harmful, and negative interactions." With this, there are strict rules against promoting self-destructive behavior, hateful conduct, nudity, and other forms of content that may violate the safety of Twitch's individual communities of streamers and viewers. 
In spite of these rules set in place, there used to exist a hidden world of gambling on Twitch's platform. 
During the rise of Twitch, one of the pioneers of live streaming, Thomas "Sodapoppin" Morris, built a large viewer base from the role-playing game, World of Warcraft. Two years after he began making content for the platform, in 2014, he streamed blackjack for the first time.
His proceeded to stream blackjack for a year, and, at its peak, he lost $5,000 in one hand. Gaining upwards of 43,000 viewers, they were being exposed to the risk taking and addictive nature of gambling.
In December 2018, gambling exponentially grew gaining an average of 7,283 monthly viewers across 58 channels. At the time, Twitch failed to see a problem and even created a "Slots'' category on their platform to appease this surge in viewership.
The new category hit a new peak in 2019, gaining an average of 13,000 monthly viewers. Streamers like Roshtein, ClassyBeef, and Bidule started making a name for themselves, broadcasting slots on a weekly basis. Though these streamers would occasionally face backlash from viewers and media outlets who questioned the ethics of gambling in front of a live audience, no action was taken by Twitch to stop this type of content from being streamed. 
Gambling content would continue to grow steadily and, for the most part, out of public scrutiny, until some of Twitch's biggest Partners, Felix "xQc" Lengyel, Adin Ross, and Tyler "Trainwreckstv" Niknam began playing slots on stream in May 2021. During this time, gambling content began to really take off as, cumulatively, the three averaged 242,537 viewers for the month.
Trends of the "Slots" Category from Twitchtracker.com / Screenshot by Isabella Lieberman
However, the more attention gambling content received, the more resistance it gained in return. The controversy of gambling became focused around slot games from websites such as stake.com and rollbit.com rather than table-top gambling games. Content creators Hasan "Hasanabi" Piker, Zack "Asmongold", and Imane "Pokimane" Anys became the face of the campaign against playing slots online and in front of an audience. 
Why Stream it?
The overall discussion of this contentious content is not based on whether gambling is bad. The negative effects of gambling is one thing even gambling streamers agree on. After every 'big' win, one of Twitch's most prominent and vocal slots streamers, Trainwreckstv, plays a video of himself saying, "Do not start gambling. Gambling is entertainment and entertainment only. You won't break even, you won't win. You won't do any of that, you understand? You will only go into debt and ruin your f****** life."
Now, the controversy of gambling on Twitch stems from the question: knowing that gambling has the potential to cause harm, why stream it? Previous Twitch partner, and current Youtube streamer, Ludwig Ahgren, proposed in a video on his channel that there are one of two reasons why streamers decide to gamble on stream: "You're already addicted and doing it offline so you might as well do it online, and two, if you do it sponsored you're going to make a s*** ton of money."  
In the realm of Twitch's biggest Partners, Trainwreckstv and xQc fall into the category of being addicted. Both have been very open and vocal on their platforms in regards to their struggle with addiction. 
Prior to gambling, Trainwreckstv used to have a drug addiction. "I've done heroin for four to five years back when I was 20," he said during stream. "I don't blame the heroin or gambling for my addiction. I blame myself, and that's how I was able to quit cold turkey off of heroin without going to rehab." 
Having addictive tendencies, gambling was another vice Trainwreckstv became obsessed with. He, like xQc, is gambling regardless of whether it is being streamed or not. xQc admitted while on one of Pokimane's streams that, excluding his time playing slots on stream, he gambled everyday and lost $2 million in just one month.
On the other hand, Adin Ross gambled on stream as a cash-grab. Being young and newer to the platform, he was easily persuaded into accepting gambling sponsorships without fully understanding the consequences it might have on his audience. "I'm 20 bro. I'm so new to this," Adin Ross told H3H3. "I have a sibling who's really, really sick and when I saw it, I was like 'no way I've never seen this much money in my life.' It's life changing."  
During a stream in March, Adin Ross leaked his wallet address and a conversation with stake.com, revealing how much money he was making from his gambling sponsorship. It showed he was earning 335 Ethereum, approximately $995,000, per week. This meant, in a month, Adin would be making around $4 million.
What Draws People to Gambling Content?
Unlike other games streamed on Twitch, slots is entirely a game of chance. No skill is involved as gamblers are prompted to simply press a button over and over again. Today, gambling websites are able to automatically spin for you, so the task is alleviated all together. Participants are able to lay back and watch as they win or, for the most part, lose money. Based solely on a rudimentary concept, what draws such a large audience to gambling content? 
First, it is important to acknowledge who is watching the streamer. Gambling streamers believe their content is catered towards people who are already into gambling. "The people targeted aren't new people, it's people who are using the other sites, who are gambling regardless," Trainwreckstv said on the H3H3 podcast, "Those people are looking to be transferred onto, that are gamblers, like me." It was also justified as a preventive measure; people were watching gambling content as a way to cope with their addiction, so they do not gamble themselves. 
Though this might account for some of a streamer's audience, the rest, and majority, of viewers who tune into gambling streams are more interested in the streamer. Famous gamblers on the platform like xQc, Adin Ross, and Trainwreckstv built their platform with their charismatic personality and through other forms of content. For example, xQc fostered his community as a former Overwatch player and with other games like GTA RP. People who like a streamer will watch them play anything, even slots. 
For viewers who have never gambled there is a huge risk in seeing their favorite streamer earn a large profit. Naturally, they become enticed them to gamble themselves. 
"Gambling has to do with the human condition," Andrada Costoiu, Assistant Director of University of California Irvine's Ethics Center, said. "It gives people hope, the possibility of winning is like watching a game." The human condition is a term used to describe the inherent elements people share which are the essential features associated with existence: emotions, traits, and behaviors. 
The appeal of gambling can come from a variety of biological, cultural, psychological factors that play on the notion of the human condition. A study conducted by Brain Connections, examines that, after a win, a disturbance in the brain's rewards system creates the brain to release a burst of dopamine. Though playing slots is rather simple, the "entertainment" of gambling or watching it comes from the positive feeling and stimulation that is triggered by a dopamine release in the brain. 
The Dangers of Gambling On Twitch 
Like Adin Ross, most of the streamers who gamble on Twitch are sponsored by gambling websites. By being paid large sums of money or using fake money, they are eliminating the stakes of gambling, the risk of losing money.
For example, Twitch streamer, SteveWillDoIt, was caught using fake money on stream, under the Twitch name SteveWillSendIt. "I feel like if I started putting my own money into this…it could be dangerous," he admitted. "There's no point of putting my body or my mind through that type of stress."
Conversly there are also Twitch Partners like Leyla Papagiorgio who do not believe there are any harmful repercussions to gambling. As a result she never disclosed whether slots stream is an advertisement of a gambling website. "There is no dangers [to gambling] and I'm the only streamer who doesn't have #ad," she said. However, when going through any given stream there are links to her social media in her chat, which where viewers can have access to promotional codes from her partnership with StakeGiveaways.
Streamers who are sponsored have undisciplined behavior while gambling on stream because they are not facing any real repercussions of it. Especially for streamers who lack transparency about their sponsorships, they risk promoting a false representation and glamorized reality of gambling to their impressionable viewers.
Viewers, who are not financially supported by gambling websites and want to resemble a sponsored streamer's reckless gambling habits, will face real consequences of gambling. Bloomberg in an article titled, "Twitch's Gambling Boom Is Luring Gamers Into Crypto Casinos" shares the story of a viewer who fell into severe debt and addiction as a result of watching it on Twitch. 
Additionally, with sponsorships, the money streamers receive is typically based on the Return on Investment (ROI) from their marketing, or how many people use their referral code. Though this has not yet been confirmed by streamer with a gambling sponsorship, it is alleged that the large amounts of money they are being paid is derived from extensive losses of their viewers. "Whatever money this company is giving you, it's because they are profiting more from whatever marketing or advertising that you are doing," Pokimane claimed.
Streamers who gamble on unregulated websites creates another harmful problem for viewers. Requiring users to gamble with crypto currency, there is no way to formally track transactions, creating leeway for websites to launder money. Viewers not educated in crypto are susceptible to scams and fraud owing to a lack of regulations, protection, and insurance.
One of the most popular slots websites on Twitch, stake.com, was publicly exposed on the H3H3 Podcast for having an illegitimate address. Operating under a gaming license in Curacao, the registered address of the company led to a run-down shack on Google Earth. If there was shadiness surrounding the biggest website, the chances of this happening across smaller companies are greater. 
Who Should be Held Responsible?
Twitch has an immense outreach, holding an average of over 2 million viewers everyday over the past year. With each generation, the gap in ages regularly watching online content increases. Younger and younger people are becoming tech-savvy and turning to apps such as Twitch and TikTok for entertainment. Though there are age restrictions, unfortunately, there is no plausible way to fully regulate who is engaging on Twitch.
Having this in mind: should most of the responsibility be placed on the streamer or Twitch itself for the types of content being streamed on the platform?
xQc has one of the largest followings on Twitch. When he began to gamble on stream, he was heavily criticized by some of his viewers. However, he defended his content, in a discord message, by acquitting himself of any moral standards placed on by his viewers. "I'm not here to be a role model. I'm here to have fun," he wrote. "If you are genuinely hurt by a broadcaster doing something on their own that doesn't involve you, you probably shouldn't be watching streams." 
For content creators, like xQc, who stream for hours and sometimes days at time, they want to play games or do activities that interest them. That's the appeal of streaming. In their eyes, viewers that do not like the content being broadcasted, have the option of clicking off and watching someone else. 
Twitch has a Community Guidelines set in place, so aren't they assuming responsibility for the content on its platform? When it comes to what content is being streamed, it should, for the most part, be Twitch's job to ban what they deem as an interference to their mission of fostering a community. 
However, streamers who have a following should not be completely absolved of having a responsibility when it comes to their content. Whether streamers like it or not, their actions have influence. Though streamers and other content creators might not have to be the perfect role-model for viewers, they should treat their followers with respect; it's who made them who they are today. Promoting harmful behavior, taking up deals with shady websites, or actively deceiving your fanbase is not how these streamers should treat their audience. 
Streamers such Trainwreckstv acknowledge the inherent risks of gambling, even trying to approach gambling as ethically as possible when streaming, prior to Twitch's ban. He was transparent with his viewers on where his money was coming from; every stream had a #ad in the description, and he consistently told his audience that he was being paid by a third-party. Additionally, he is just as, if not more, open about his losses than his winnings. Being a victim of a gambling addiction himself, Trainwreckstv's rationale to gambling for over 24 hours on stream was to show how slots is a losing game. Though he gets winnings every now and then, he often left his streams at a loss of hundreds and thousands of dollars. 
Another streamer, who goes by AyeZee and gambles frequently on Twitch, has his own website where he offers resources and help for those who are addicted to gambling. 
Streamers like Trainwrectkstv and AyeZee tried to uphold the common belief that people who are in public-eye, should be responsible for setting an example for their fans. However, there are streamers who believe that they should not be held to a high moral standard. 
Future of Twitch
Before the gambling ban, Twitch allowed the category to grow rapidly, either because they didn't see anything wrong with it or was it because gambling sites were bringing in a lot of revenue to the platform? Nevertheless, their previous neutral position gave slots content the opportunity to reach as many people as it did. At its peak, slots reached the tenth most popular category on Twitch with more than 86,000 live viewers at any given time. 
Twitch banned gambling on stream when they acknowledged the controversies being discussed by some of their largest Partners, and that it was promoting an addictive and damaging vice to these streamers' increasingly young and impressionable viewers. 
Gambling isn't completely off Twitch. Streamers are still able to broadcast sports betting and tabletop casino games like Poker which created another controversy in itself. 
But the shadiness surrounding sponsored slots streams and how slots are designed for people to lose are the reasons as to why Twitch's ban only included slots, roulette, or dice games. Though Poker is also a form of gambling, it is a game of skill and strategy; you play against other people and there is always a winner. 
In the realm of entertainment and content, for years, streamers were able to get away with broadcasting countless hours of slots. For the future of the platform, Twitch's ban on gambling was a step in the right direction. Though some, especially smaller streamers, might find loopholes around the ban, hopefully, going forward there will be a shift away from gambling towards more meaningful content.