Silas FIFA 23: How to Complete the Winter Wildcards SBC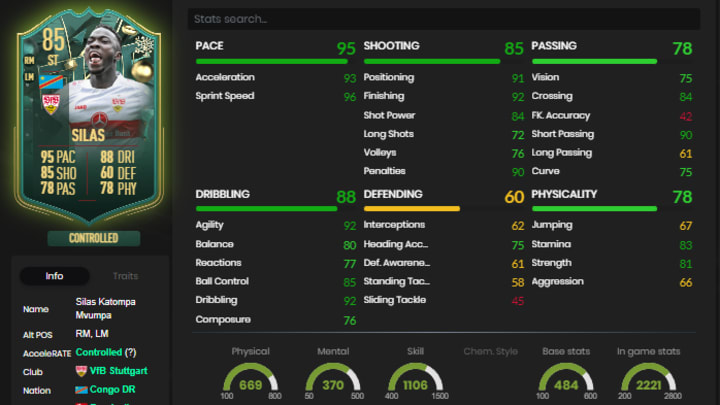 FUTBIN
Silas FIFA 23 Winter Wildcards SBC went live Dec. 31 during the Team 2 portion of the holiday themed promotion.
Winter Wildcards is back in FIFA 23 featuring promotional items in packs, Swaps, objectives and daily player SBCs. Silas Katompa Mvumpa, a fan-favorite in FIFA Ultimate Team the past few years, received a special item on Dec. 31 upgraded and shapeshifted to striker. He still has LM and RM as alternate positions giving players some creativity options.
Silas FIFA 23: How to Complete the Winter Wildcards SBC
Here's how to complete the FIFA 23 Winter Wildcards Silas SBC:
One Segment
Bundesliga Players: Min. 1
Team of the Week Players: Min. 1
Squad Rating: 84
No Chemistry Requirement
Players in the Squad: 11
A decent price for a player that can be a top option at striker for Bundesliga squads, or that fun, new option off the bench late in games as a super substitute. Silas has fantastic pace, good shooting, decent dribbling and passing in key areas to make him viable.
Players who need a TOTW item to use in this SBC can make use of the 81+ TOTW Upgrade SBC.
Winter Wildcards Silas expires Jan. 14 at 1 p.m. ET.