Slaughterhouse Warzone Blueprint: How to Get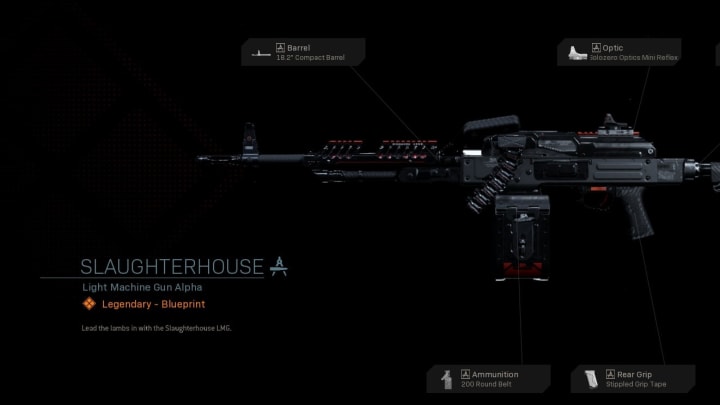 The Slaughterhouse Blueprint for the PKM LMG enables you to demolish enemies at close quarters. / Photo courtesy of Infinity Ward
Slaughterhouse Warzone Blueprint is a legendary weapon variant in Call of Duty: Modern Warfare that seeks to turn the PKM Light Machine Gun into a close quarters powerhouse. Known for large ammo capacity and weapon recoil, Light Machine Guns are especially deadly towards vehicles and enemy combatants at medium range.
With just a few attachment changes the PKM can be turned into an efficient weapon for clearing buildings. We'll break down the contents of the Blueprint, how to get it, as well our recommendations for optimizing Warzone performance.
Slaughterhouse Blueprint: Modern Warfare
The Slaughterhouse Blueprint comes with five attachments preloaded onto the weapon. This means that all weapon slots are full and any changes to this weapon will require the removal of a default attachment. The default attachments are:
Barrel - 18.2 Compact Barrel
Optic - Solozero Optics Mini Reflex
Stock - FSS Close Quarters Stock
Ammunition - 200 Round Belt
Rear Grip - Stippled Grip Tape
The power of a silenced weapon in Warzone is unmatched. For this reason, we recommend dropping the optic in favor of iron-sights and a monolithic suppressor. Our recommended PKM Warzone loadout is as follows:
Barrel - 18.2 Compact Barrel
Muzzle - Monolithic Suppressor
Stock - FSS Close Quarters Stock
Ammunition - 200 Round Belt
Rear Grip -Stippled Grip Tape
This weapon is especially strong for holding down buildings as you can demolish an entire team before needing to reload. They wont know what hit them.
Slaughterhouse Warzone Blueprint: Bundle & How to Get Yours
The Slaughterhouse Blueprint is part of the Nikto: Take No Prisoners bundle available in the Call of Duty Store for 2400 COD points. In addition to the Slaughterhouse Blueprint you get a Bloodletter Nikto Skin, a 725 Crimson Pools Blueprint, Sputnik Operator Finishing Move, Entomb Cargo Truck Skin, Blood Simple Watch Skin, Loose Ends Knife Skin, Dirty Deeds Calling Card, Dark Thoughts Emblem, as well as a Just a Corpse operator quip.
Nikto Take No Prisoners Bundle / Photo courtesy of Infinity Ward