Snap Dragon Blueprint Warzone: How to Get it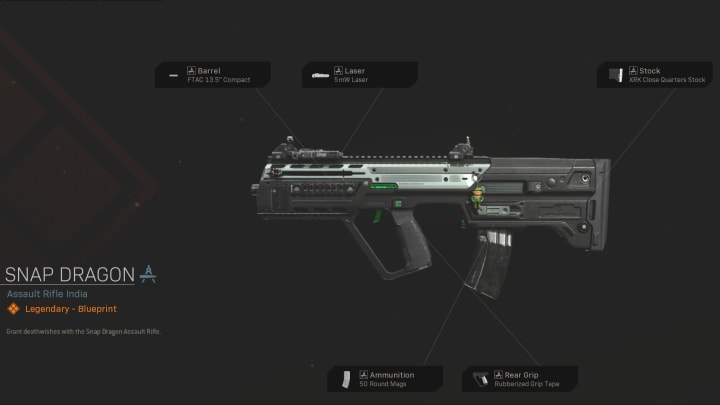 The Snap Dragon is a weapon blueprint for the RAM-7 in Warzone. / Photo by Activision/Infinity Ward
Snap Dragon blueprint Warzone is one of the most prevalent weapon blueprints in the Call of Duty battle royale.
Weapon blueprints, whether found in the COD store or as drops from supply crates in a game of Warzone, are customized weapons with unique attachments and effects. Those effects range from custom skins, sights and colored tracers. The Snap Dragon is a RAM-7 weapon blueprint that's available for purchase in the store and as a drop in-game.
Here's everything you need to know about the Snap Dragon blueprint.
Snap Dragon Blueprint Warzone: How to Get it
The Snap Dragon is part of the Tracer Pack: Green bundle. Players must spend 1,600 COD Points to get the blueprint. The bundle also comes with the Gangrene blueprint for the .50 GS, the Leprechaun charm and Uplinked calling card.
Here are the attachments on the Snap Dragon in the store:
Barrel: FTAC 13.5" Compact
Laser: 5mW Laser
Ammunition: 50 Round Mags
Stock: XRK Close Quarters Stock
Rear Grip: Rubberized Grip Tape
The Snap Dragon also has special green tracers. The Snap Dragon found as a drop in Warzone has different attachments. It's unknown exactly what attachments come on the in-game Snap Dragon.
Players can find the in-game version in weapon crates, as part of rewards from Scavenger contracts and more.