Snow Owl Blueprint Warzone: How to Get the FN Scar 17 Blueprint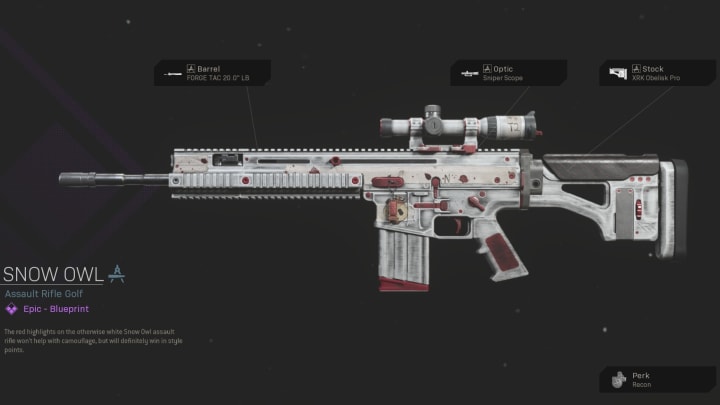 The Snow Owl is a blueprint for the FN Scar 17 in Call of Duty: Warzone. / Photo by Activision/Infinity Ward
Snow Owl Blueprint in Warzone is for the FN Scar 17 assault rifle, commonly known as the Scar.
Weapon blueprints in both Call of Duty: Modern Warfare and Warzone give players preset attachments designed to help them level up weapons for desired attachments. Blueprints became even more prevalent in Warzone when new players on the free-to-play side were behind the curve when it came to Modern Warfare owners.
These blueprints also became popular considering their custom designs and effects.
Snow Owl Blueprint Warzone: How to Get the FN Scar 17 Blueprint
Here's how to get the Snow Owl blueprint in Warzone.
Players have to purchase the Regicide bundle to get the Snow Owl blueprint permanently. The bundle costs 800 COD Points and also includes the Head of the Table weapon charm and Endangerous sticker.
Here are the preset attachments on the epic tiered blueprint:
Barrel: FORGE TAC 20.0" LB
Optic: Sniper Scope
Stock: XRK Obelisk Pro
Perk: Recon
Epic blueprints only come with four out of a possible five preset attachments. The attachments on the Snow Owl don't make the blueprint appealing. Most players who purchase this bundle will be fans of the weapon and custom skin.
Check out other popular blueprints in Warzone: