Spirit of the Beast Warzone Blueprint: How to Get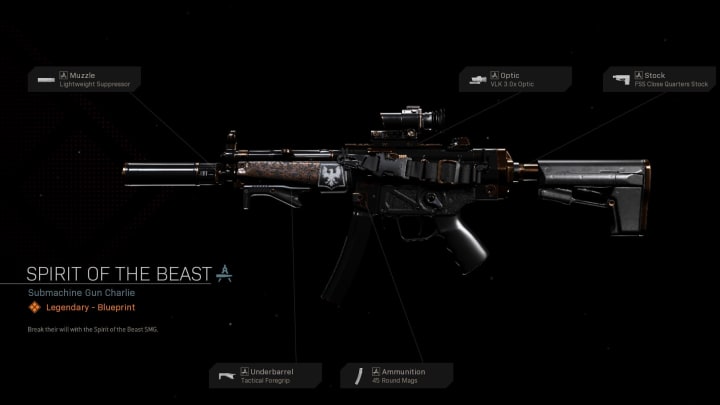 This SMG blueprint will awaken the beast inside of you. / Photo by Infinity Ward via GamesAtlas
Spirit of the Beast Warzone Blueprint is a legendary tier MP5 weapon skin in Call of Duty: Modern Warfare. Similar to other legendary tier blueprints Spirit of the Beast is a stacked SMG utilizing max weapon attachments. For players who have not leveled up the MP5 this is a great way to quickly get their hands on solid weapon attachments.
Spirit of the Beast Warzone Blueprint: How to Get
The Spirit Of The Beast Warzone blueprint can be attained by purchasing the Hydraslayer bundle in the Call of Duty: Modern Warfare in-game store for 1,400 COD points.
Hydraslayer bundle components. / Photo by Infinity Ward
In addition to the Spirit of the Beast blueprint players also receive the Soul of the Beast LMG blueprint, Hydra Hellfire calling card as well as a regeneration spray.
Spirit of the Beast Warzone Attachments
Muzzle: Lightweight Suppressor
Optic: VLK 3.0x Optic
Stock: FSS Close Quarters Stock
Underbarrel: Tactical Foregrip
Ammunition: 45 Round Mags
SMGs excel in close quarters combat, particularly at clearing buildings. This combination of attachments is looking to increase accuracy and range while slightly decreasing mobility. Whatever you end up using it for this blueprint will certainly bring out the beast in whoever wields it.