Square Enix Explains Why Kingdom Hearts Will be Limited to the Cloud on Switch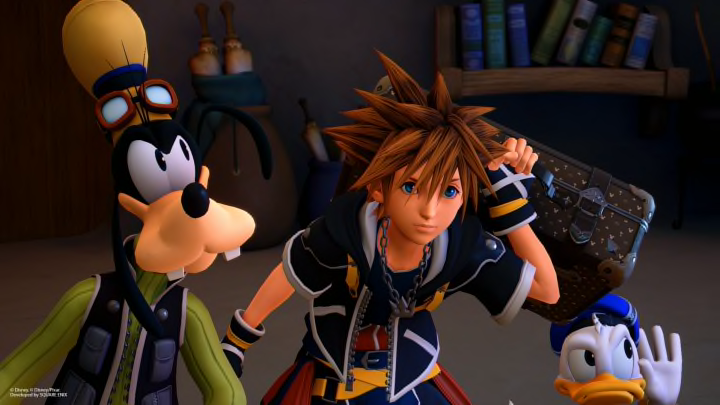 Image courtesy of Square Enix/Disney
Square Enix has revealed why the Kingdom Hearts games will only be available as cloud games on the Nintendo Switch.
After the exciting reveal that Sora would be the final fighter coming to Super Smash Bros. Ultimate, it was soon announced that the Kingdom Hearts games would be making their way to the Nintendo Switch. The buzzing excitement for many fans was soon dashed after it was revealed that they would be coming as cloud versions, rather than native ports.
Cloud gaming has yet to fully settle for many players. The concept requires a constant internet connection to play the games, streaming them rather than installing on the console locally. This tends to lead to connection drops, input lag, and a lack of portability; a strange concept for a handheld console. Many fans, disappointed with the notion, have been critical of the decision to bring Kingdom Hearts to the Switch in such a way. Now, Square Enix have responded to the queries, hoping to explain why the decision was made.
Square Enix Explains Why Kingdom Hearts Will be Limited to the Cloud on Switch
In an interview with Nintendo Life, series producer Ichiro Hazama said that the decision emerged largely due to the storage capacity of the Nintendo Switch.
"Bringing these titles to Nintendo Switch proved to be quite difficult for various reasons, including the storage capacity of the hardware, but we're excited that we were able to make it happen for the first time ever by utilizing the Cloud service."
While Kingdom Hearts III requiried a large amount of storage space to install, even on the PlayStation 4 and Xbox One, it's understandable why this game wouldn't have been possible to port natively. Though, many have wondered why the earlier games, Kingdom Hearts and Kingdom Hearts II, couldn't receive a native version. Perhaps this is due to the two games being offered in one bundle as of late (Kingdom Hearts HD 1.5 + 2.5 Remix), no longer being separated into their individual units.
Regardless, it seems the idea hasn't been completely ruled out. In the same interview, Hazama said "at this moment in time, the production of a native version is undecided. We believe that the Cloud version is currently the best way to deliver the Kingdom Hearts series to Nintendo Switch players, but we are always excited to hear to feedback from our fans and want to thank them for all their support."
Native versions certainly seem to be the most consistent way to enjoy games, for the time being at least. With fans largely hoping to see the Kingdom Hearts series receive a native Switch port in the future, we can only hope that Square Enix is taking note.