Steam Winter Sale 2022 Deals Listed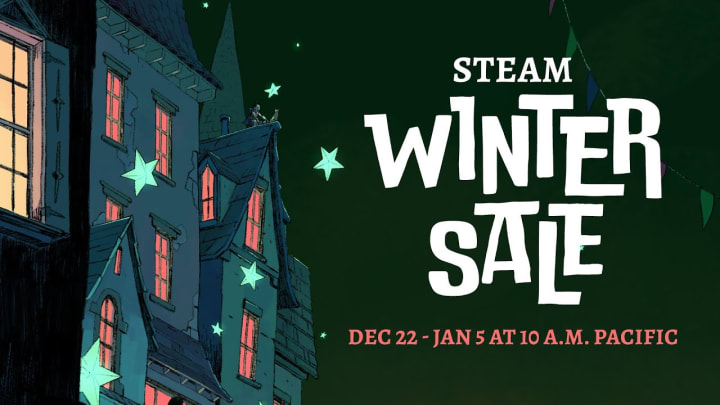 "The Winter Sale is now live!" / Valve
Fresh off of the heels of its Black Friday-timed Autumn Sale, Steam has launched its Winter Sale just in time for the holidays.
As promised back in September, the Winter Sale is now live as one of Steam's four major seasonal sales that take place annually. Just like with the other seasonal sales (Autumn, Spring, Summer); support levels from Steam should be similar to those sales. During these sale events, the entire front page of the Steam store shifts to a different layout, focusing on highlighted promotional deals.
Here's a breakdown of the best Steam Winter Sale deals for 2022.
Steam Winter Sale 2022 Deals Listed
The Steam Winter Sale is set to run from Dec. 22, 2022, to Jan. 5, 2023, at 1 p.m. ET.
Steam Winter Sale: Modern Warfare 2
Call of Duty: Modern Warfare II: $59.49 (15% off)
Call of Duty: Modern Warfare II - Vault Edition: $79.99 (20% off)
Steam Winter Sale: Elden Ring
Elden Ring: $41.99 (30% off)
Elden Ring Deluxe Edition: $55.99 (30% off)
Steam Winter Sale: God of War
God of War: $29.99 (40% off)
Steam Winter Sale: Rust
Rust: $26.79 (33% off)
Rust + DLC Bundle: $50 (40% off)
Facepunch Complete Bundle: $65 (42% off)
Steam Winter Sale: The Elder Scrolls Online
The Elder Scrolls Online Standard Edition: $5.99 (70% off)
The Elder Scrolls Online Collection: High Isle: $19.79 (67% off)
Steam Winter Sale: Cyberpunk 2077
Cyberpunk 2077: $29.99 (50% off)
Steam Winter Sale: Marvel's Spider-Man: Miles Morales
Marvel's Spider-Man: Miles Morales: $37.49 (25% off)

Steam Winter Sale: FIFA 23
FIFA 23: $27.99 (60% off)
FIFA 23 Ultimate Edition: $35.99 (60% off)
Steam Winter Sale: Sonic Frontiers
Sonic Frontiers: $41.99 (30% off)
Sonic Frontiers - Digital Deluxe: $48.99 (30% off)
Steam Winter Sale: Persona 5 Royal
Persona 5 Royal: $41.99 (30% off)
Steam Winter Sale: RimWorld
RimWorld: $27.99 (20% off)
RimWorld with all expansions Bundle: $88.96 (11% off)
Steam Winter Sale: Red Dead Redemption 2
Red Dead Redemption 2: $19.79 (67% off)
Red Dead Redemption 2: Ultimate Edition: $29.99 (70% off)
Steam Winter Sale: Grounded
Grounded: $26.79 (33% off)
Grounded + Original Soundtrack Bundle: $30.13 (40% off)
Steam Winter Sale: Marvel's Spider-Man Remastered
Marvel's Spider-Man Remastered: $44.99 (25% off)
Steam Winter Sale: Final Fantasy VII Remake Intergrade
Final Fantasy VII Remake Intergrade: $39.89 (43% off)
Steam Winter Sale: Dead by Daylight
Dead by Daylight: $6.99 (65% off)
Dead by Daylight: Ultimate Edition: $37.38 (53% off)
Dead by Daylight - Resident Evil: Collaboration Bundle: $20.54 (53% off)
Dead by Daylight - Silent Hill Edition: $24.67 (60% off)
Steam Winter Sale: Total War: Warhammer III
Total War: Warhammer III: $44.99 (25% off)
Steam Winter Sale: Stray
Stray: $23.99 (20% off)
Annapurna Interactive Collection: $229.31 (54% off)
Stray - Soundtrack Edition: $30.70 (23% off)
Steam Winter Sale: Grand Theft Auto V
Grand Theft Auto V: Premium Edition: $14.98 (63% off)
Grand Theft Auto V: Premium Edition & Megalodon Shark Card Bundle: $59.37 (58% off)
Grand Theft Auto V: Premium Edition & Great White Shark Card Bundle: $28.77 (52% off)
Steam Winter Sale: Valheim
Valheim: $13.99 (30% off)
Valheim Soundtrack Bundle: $17.62 (37% off)