Steel Joins Nitr0 on 100 Thieves New Valorant Roster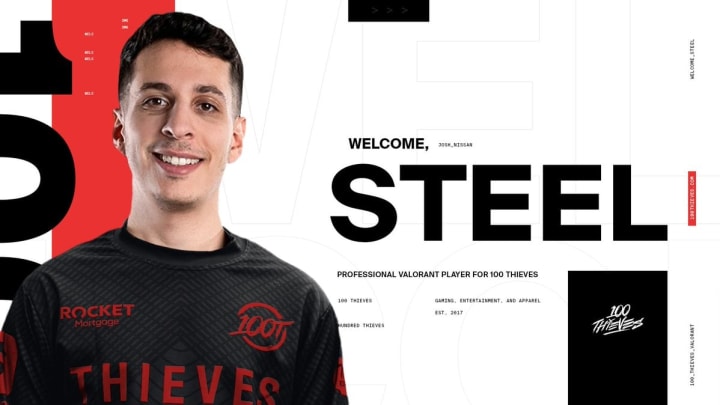 Former Counter-Strike: Global Offensive professional player John "steel" Nissan joins 100 Thieves' revamped Valorant roster. After not finding much success in the competitive Valorant scene, 100 Thieves overhauled its whole Valorant roster besides Spencer "Hiko" Martin.
Steel is now the second addition behind Nick "Nitr0" Cannella as it seems like 100 Thieves may continue to add former professional CS:GO players to fill out their roster.
Steel Joins Nitr0 on 100 Thieves New Valorant Roster
Steel transferred from Chaos EC's CS:GO roster on Sept. 3 and has officially moved over to competitive Valorant. A solid move for 100 Thieves does not mean instant success however, teams such as Team SoloMid and T1 still stand on top of the North America Valorant pro scene.
The roster overhaul came after disappointing performances in previous Ignition Series Tournaments and while Hiko performed as expected, the rest of the roster did not. There has been no news on who 100 Thieves will sign to fill out the remaining roster spots but one can expect that within the next few weeks the roster will be completed.
100 Thieves has a lot to prove across all of their rosters as most of them did not find much success in competitive play. This is a pivotal time for the organization as all eyes are on them to see if they can improve and make the right adjustments.