Steven Bergwijn FIFA 23: How to Complete the World cup Showdown SBC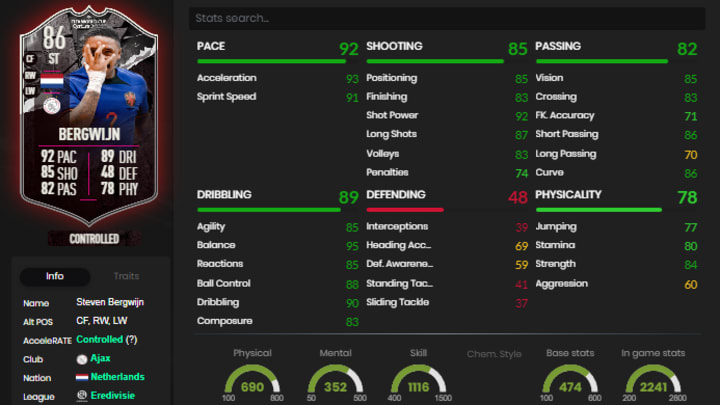 FUTBIN
Steven Bergwijn FIFA 23 World Cup Showdown SBC went live Dec. 2 ahead of the Netherlands vs. United States match in the World Cup Round of 16.
World Cup Showdown SBCs are special live items highlighting a premier match at the international tournament. The group stage is nearly done with just two matches left as of writing, and knockout stage matches are taking shape. The United States faces off against the Netherlands in the Round of 16 and there are two special live items players can complete before the game.
Leeds United midfielder Brenden Aaronson is the spotlight player for USA. Steven Bergwijn is the spotlight player for the Netherlands. The player from the winning team will receive a +2 overall boost. The losing player will not receive a boost.
Steven Bergwijn FIFA 23: How to Complete the World cup Showdown SBC
Here's how to complete the FIFA 23 World Cup Showdown Bergwijn SBC:
Segment 1
Team of the Week Players: Min. 1
Squad Rating: 83
No Chemistry Requirement
Players in the Squad: 11
REWARD: Premium Gold Pack
Segment 2
Squad Rating: 84
No Chemistry Requirement
Players in the Squad: 11
REWARD: Small Gold Players Pack
Bergwijn and Aaronson cost the same which is nice considering players can throw their fodder into who they think will win the match without an added cost. The main complaint with this card though is that he already has a live Ones to Watch item that's been upgraded to 85 during the World Cup. If Netherlands wins, which most would expect them to, this card will go up to 88 overall. Though, if you already own the OTW Bergwijn, that card can go higher than this card.
Keep that mind when completing it.
This card expires in 19 hours, as of writing, so if you want it complete it fast.